Time to nominate your School Superhero?
Families are being urged to nominate their 'school superheroes' who have made a positive contribution to their school community. One school superhero will receive a £50 Town and City Gift Card for their choice of over 60 schemes around the UK and Ireland, including the Sheffield City Centre Gift Card, with their school or class receiving a £250 cash prize.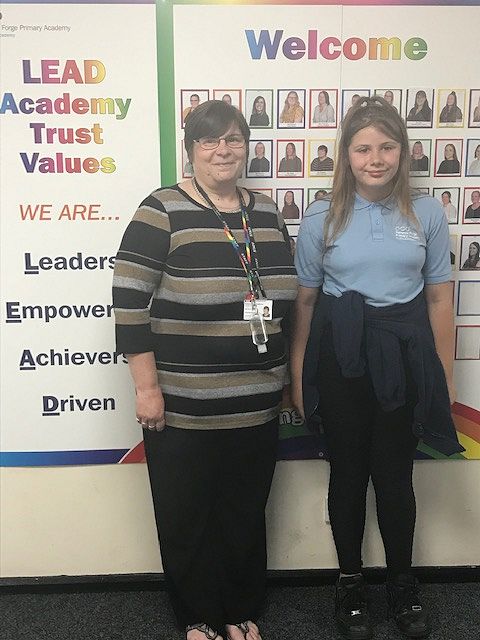 Kim Holland, who is an admin assistant at Rainbow Forge Primary Academy in Sheffield, was nominated for the School Superheroes award by Collette Sullivan whose daughter Ava attends the Hackenthorpe school. Collette says:
"Mrs Holland is such a lovely lady and does so much to help me and my family. I have epilepsy and if I've had a seizure and can't get to school to pick up Ava, Mrs Holland will arrange for Ava to go into after school club until my husband can get home to pick her up. My husband has his own business, and without Mrs Holland's help, I don't think he would have been able to keep the business going. As well as making sure Ava has childcare arranged, Mrs Holland will phone a friend for me, to make sure I am OK too.
"My epilepsy means that I can sometimes forget things, like dates for trips, or booking after school club, but I know that I can always call Mrs Holland. My son has left Rainbow Forge now and gone on to high school but Mrs Holland was there for his 7 years of primary school. I must have called her hundreds of times over the years, she has done so much for us as a family.
"I think school office staff like Mrs Holland keep schools going. Not only do they look after the children and families, but they organise trips, money, medication and field calls from parents with problems and concerns. Mrs Holland is the one that everyone goes to, I don't think I have ever seen Mrs Holland lose her cool, even when I've been upset, Mrs Holland remains calm and reassuring.
"Rainbow Forge Primary Academy is a fantastic school, I can't fault it and I'd love to see Mrs Holland win this award. Not only does Mrs Holland support our family, but every other family too, she is a really big part of the school and the community. I think she is amazing."
The Sheffield City Centre Gift Card can be spent in 75 businesses across the city centre, including high street brands, independent stores, food places and restaurants, cafés and coffee shops, leisure and entertainment venues and health and beauty salons. The Sheffield City Centre Gift Card scheme is managed by Sheffield BID. Richard Pilgrim, Project Manager at Sheffield BID, said:
"It's been such a difficult year for so many people, which is why the School Superhero campaign is such a great idea. There will be many unsung heroes out there. This is a really simple way to say, 'thank you', and to recognise those people that have made many of our lives just that little bit easier over the last few months. It would be lovely if the ultimate 'School Superhero' came from our area. Good luck to Kim, she is a very worthy nominee, and we hope her story will inspire others to nominate their own School Superhero."
All school superheroes are eligible to be nominated for an award, including teachers, teaching assistants, catering/lunchtime staff, administration teams, caretakers, coaches and volunteers. Families can nominate a school superhero up to 31 August 2021 by visiting https://townandcitygiftcards.com/schoolsuperhero.