Keep Calm and Support Sheffield City Centre: your e-guide to alternative shopping during the coronavirus outbreak
With the outbreak of COVID-19 it's been encouraging to see communities pulling together and local businesses adapting their services to trade in different ways. This e-guide has lots of ideas on how you can continue to support Sheffield's business community in the current circumstances. We'll continue to add to this, so please check back for further updates. Details of individual offers are all subject to T+C's defined by businesses.
Sheffield city centre gift card
Gift cards are great ways to lock spend in the local economy at a time when in-store transactions will be less frequent. The Sheffield city centre gift card can be used at over 100 businesses including high street and independent retailers, restaurants, cafes, and leisure and entertainment venues. Cards can currently only be purchased online. For further details and to check particpating retailers, visit the Sheffield city centre gift card website.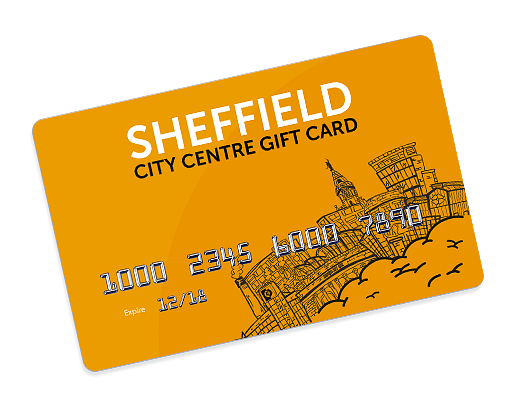 Home delivery
With new and existing delivery services being provided by businesses, it's easier for you to enjoy your favourite treats at home. Here are a selection of businesses going the extra mile to accommodate customer needs.
200 Degrees Coffee are providing 50% off subscription coffee for 3 months. The offer is valid until 30th April and can be redeemed online using the code TWOHUNDREDFF.
There are various online platforms businesses are using to fulfil food and drink orders. Take a look at Uber Eats, Citygrab, Deliveroo and Just Eat for specific participating restaurants.
Supermarket essentials
With people stocking up on essentials at supermarkets, it's hard to get products such as toilet paper and staple foods at larger out-of-town stores. Many people are finding it easier to shop at smaller stores, with a selection to choose from in Sheffield city centre:
Sainsbury's Local (Division Street, Arundel Gate, The Moor, Hanover Street)
Tesco Express (Church Street, West Street, Eyre Lane)
The Moor Market
From fresh produce to household essentials, traders located in The Moor market are well stocked to cope with demand, providing their usual personal service.
The Moor Market is currently still oopen for for fresh fruit and vegetables, eggs, bread, milk, nuts, meat, fish and other groceries.
Keep checking back
We'll be updating this website daily with up-to-date information, so please keep coming back and spreading the word. If you have a suggestion of what could be included in the e-guide, please email details to social@sheffieldcitycentre.com.
Most importantly, take care and look out for each other.