Chapel Walk - 200 Years of Shopping
Chapel Walk is steeped in history – in fact it goes all the way back to the middle ages, with both the Walk and adjacent Black Swan Alley being built on the remains of ancient Sheffield footways. But it wasn't until the 19th century when Chapel Walk became the must-visit shopping destination it is today – although the shops were a little different in those days. According to the White's Directory, during the 1800s Chapel Walk was home to a hatter, tailor, shoemaker, tobacconist, a watch and clock maker, and a day school, to name just a few.
During the 1960s and 70s Chapel Walk really found its niche and was renowned for its quirky mix of fashion, food, music and more. One of its most famous outlets was the Sidewalk Café, which attracted Sheffield's rich and famous, advertising itself as "the most luxurious premises in the north".
Today, Chapel Walk is still known for an eclectic mix of independent businesses, and for being a key part of the city's retail offer.
Andaa at Home
Whether you're a catering professional or a passionate home cook who appreciates quality, Andaa has everything you could want. Their extensive range of high quality products includes baking, cookware, cutlery, kitchenware, knives, tableware and textiles – as well as some great gift ideas. You'll find all the top brands and eco-friendly products. As an independent you can expect a truly personal service, a guaranteed smile when you walk through the door, and expert staff who will take the time to help you find exactly what you need.
Opening hours: Mon–Sat, 9am–5:30pm Tel: 0114 272 0179 www.andaahome.com
ANDREWS Cafe Tea Rooms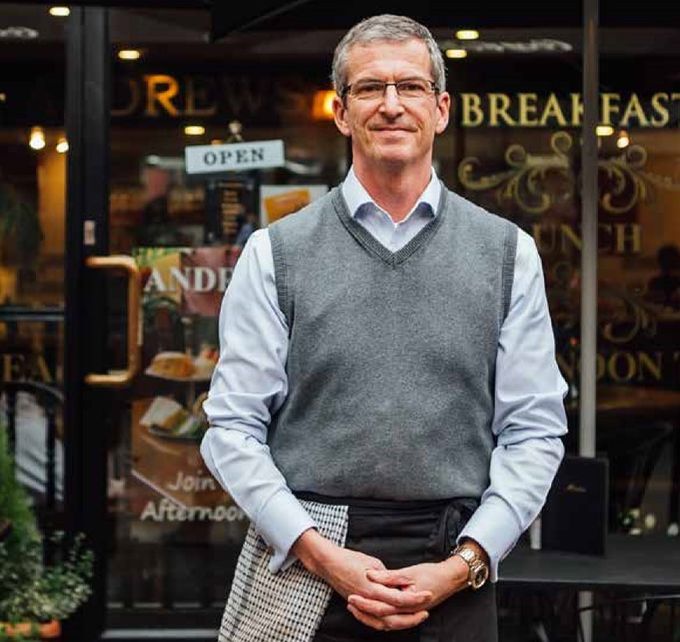 Walking into ANDREWS is like stepping back in time – and the perfect place for a leisurely breakfast, lunch or afternoon tea (which has been described by customers as better than The Grosvenor's) – or simply pop in for coffee and cake, or a glass of wine. As a family run, independent business you can expect great service and a welcoming smile from owner Andrew and his team. Make yourself at home and enjoy efficient table service, where nothing is too much trouble. ANDREWS Café Tea Rooms is a favourite with shoppers, theatregoers, ladies who lunch and students alike – in fact, it's a must-visit for foreign students eager to experience its quintessential English charm.
Opening hours: Mon–Fri, 10am–4pm / Sat, 9am–4.30pm / Sun, 11am–3pm Tel: 07979 958931
Birds Yard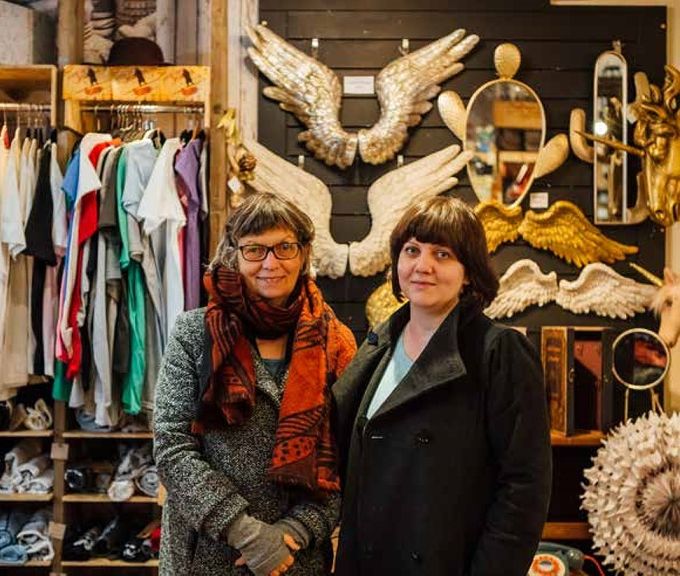 An Aladdin's cave of the weird, wonderful and fabulous, you have to see Bird's Yard to believe it. The multi-award winning store prides itself on showing the best of local and global talent – and the perfect place to start if you're buying gifts or treating yourself to something a little bit special. You could spend a whole afternoon there discovering all the unique items in their collection. From kooky lighting and homeware to art, clothing and jewellery, you'll be amazed by what you'll find at Bird's Yard – where else could you find a unicorn wall trophy, a knitted cactus or bust of a rhino in officer's uniform? The store is also a showcase for many of Sheffield's creative designers, illustrators and craft community – all handpicked by the owner to maintain the shop's unique style.
Opening hours: Mon–Fri, 10am–6pm / Sat, 9.30am–5.30pm / Sun, 11am–4pm Tel: 0114 278 8709 www.birdsyard.co.uk
Cards & Gifts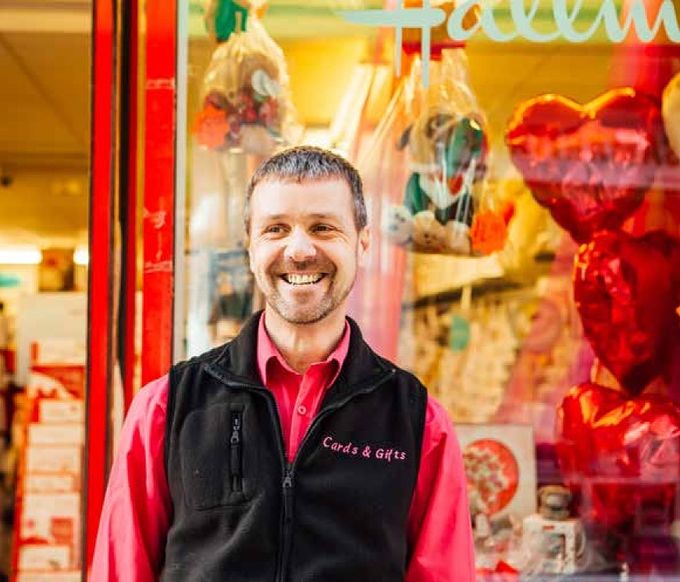 A huge range of cards and gifts – with the personal service and great value you can only experience at an independent. You'll find top quality cards for every occasion and age – some you won't find anywhere else on the high street. Plus, wrapping paper, gifts, badges, helium balloons and everything you need to throw a party. The shop also boasts the largest collection of 'Me to You' teddies for miles around – but if you want something truly unique, try Creation Express, their personalised gift service. In less than 10 minutes you could be walking out with a photo and personal message printed onto a range of gifts including mugs, photo frames, key rings, moneyboxes, cushions and more. The perfect way to make your gift extra special.
Opening hours: Mon–Sat, 8:30am–5:30pm / Sun, 11am–3pm Tel: 0114 2750169 www.cardsgiftssheffield.co.uk
Dr Martens
Dr. Martens have been worn by workers, rebels, non-conformists and free thinkers for over five decades – and their Chapel Walk store is the perfect place to browse the range and find a unique collection you won't find anywhere else in the city. As soon as you walk in you'll be greeted by their friendly team, who live and breathe the world famous brand – and have the expert knowledge you need to find exactly what you're looking for, from the everyday classics to something altogether more glittery or unusual. Choose from men's, women's, unisex and kids' shoes and boots – they've even got an extensive vegan collection. And for true fans of this iconic brand, you can also pick up t-shirts, bags, belts and socks. Shop in store and online - plus students can enjoy 10% off.
Opening hours: Mon–Sat, 9:30am–6pm Tel: 0114 272 5435 www.drmartens.com
Feast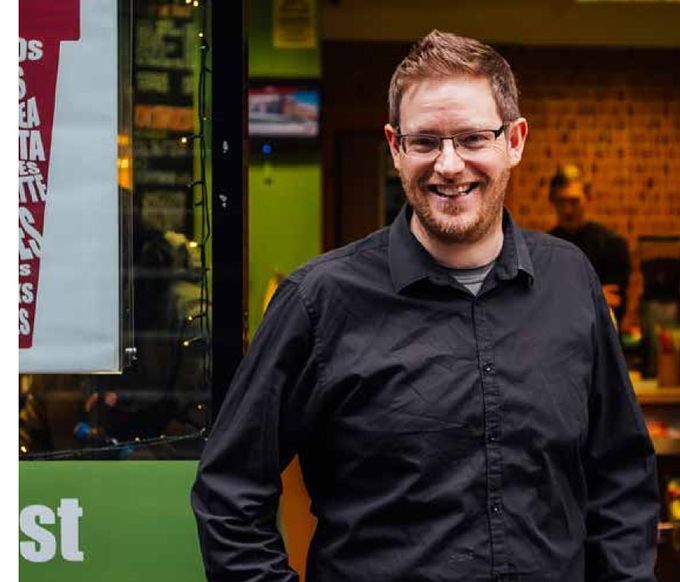 Offering breakfast, lunch and snacks since 2007, Feast is famous for fresh, quality ingredients, a friendly welcome and great value. Everything is made on site, with locally sourced ingredients where possible – offering a huge choice of sandwiches, salads, smoothies and cakes – including plenty for vegetarian and vegan customers too. Because it's family-run, you can expect an extra personal service, a laid back atmosphere and a decent playlist on the stereo. They're also on first name terms with their regulars, but not because they write it on their coffee cups – it's because they have actual conversations with their customers – and love hearing the stories people have to tell. Call ahead and have your food waiting for you, or why not speak to the team about catering for your next event.
Opening times: Mon–Fri, 7am–3:30pm / Sat, 8am–3:30pm Tel: 0114 276 2862 www.feastfood.co.uk
Foundry, The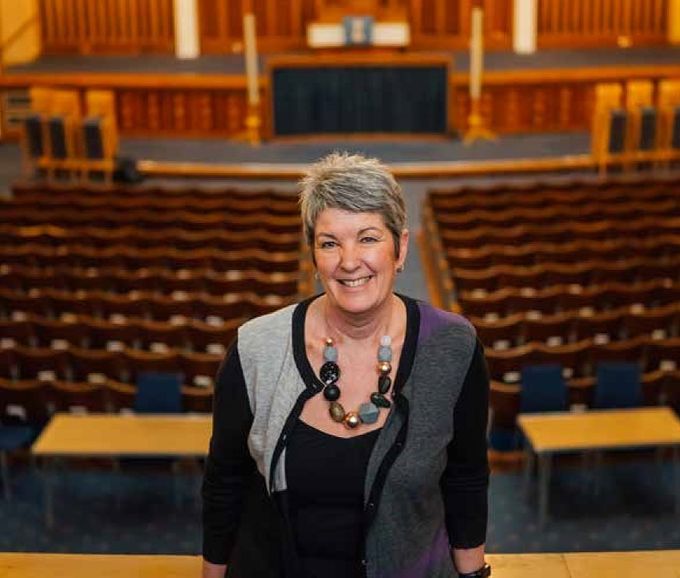 Victoria Hall occupies an important position in the very heart of the city – and the site has a long and interesting history dating all the way back to the late 18th century. Today, their many rooms serve as headquarters to a range of charitable organisations, with others offering office space or meeting rooms for hire – from as little as £10 per hour! The Main Hall is the perfect venue for concerts, conferences and events, as well as a place of worship for the Methodist congregation and others. But whatever your event, the friendly team will be able to find the perfect space for you. They are a Christian community, working in partnership with other charities throughout the city. 'The church in the heart of the city, with the city at its heart'.
Opening hours: Mon, 9am–9pm / Tues, 9am–9.30pm / Wed, 9am–6pm / Thurs, 9am–9pm / Fri, 9am–6pm / Sat, 9am–6.30pm Tel: 0114 272 1749 www.foundrysheffield.org.uk
Phone Extras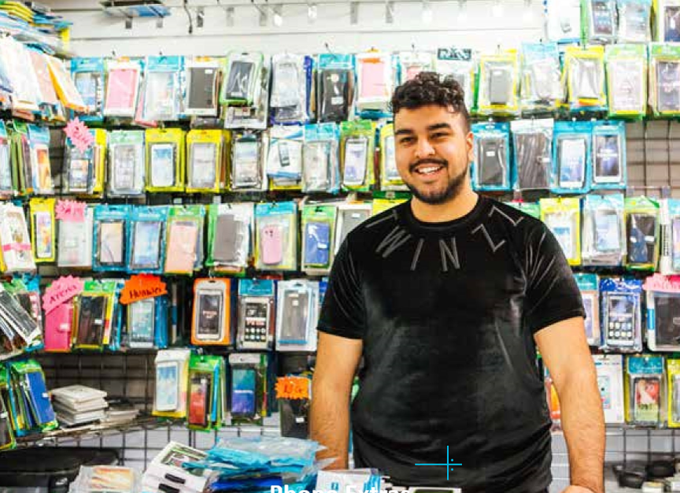 Everything you need for your phone – and always top quality and great value. This handy little shop has been on Chapel Walk for 10 years – with customers coming back again and again for the friendly personal service, expert know-how and huge range. Choose from hundreds of phone covers for every make and model, as well as cables, adapters, batteries and other accessories – Phone Extras has it all. They can also help with screen repairs, general repairs and unlocking phones – pop in, tell them the problem and they'll get you back up and running in no time.
Opening hours: Mon–Sat, 9:30am–5:30pm Tel: 0114 275 8000 www.phoneextras2013.wixsite.com/website
Staniforths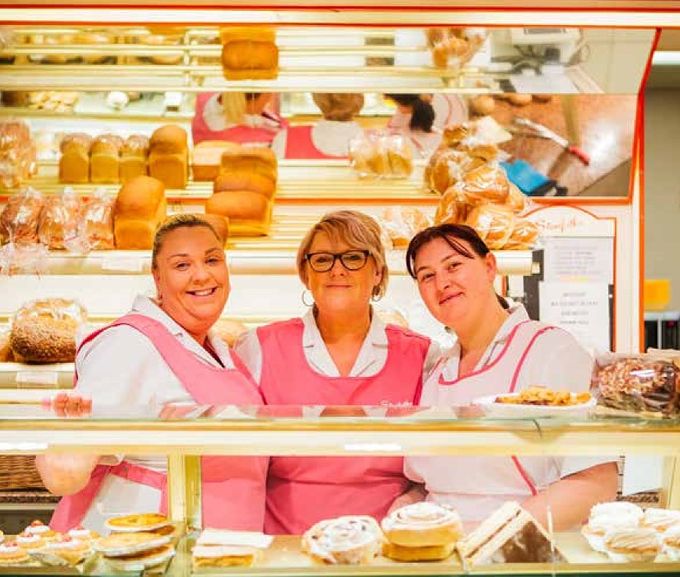 Staniforths has been offering freshly baked breads, cakes and confectionery throughout South Yorkshire since 1940, and the Chapel Walk bakery is the perfect example of the warmth, personality and charm of a great family business. You're guaranteed a smile and a good old chitchat from the team – one of which has worked there for 28 years! On the counter you'll find a great range of bread, freshly made sandwiches, pizza, pasta, salads, jacket potatoes and soup – and we can't forget their legendary hand-cut hot pork sandwich with all the trimmings. So pop in for breakfast, lunch or to discuss party and office catering – or to order an extra special birthday cake – you'll always be very well looked after at Staniforths.
Opening hours: Mon–Fri, 8am–4pm / Sat, 8am–3.15pm Tel: 0114 272 1649 www.staniforths-rawmarsh.co.uk
Directory of businesses
Andaa at Home
An extensive range of high-quality products includes baking, cookware, cutlery, kitchenware, knives, tableware and textiles. Open: Mon–Sat, 9am–5:30pm Tel: 0114 272 0179 .Visit: www.andaahome.com
Reopened
ANDREWS Café Tea Rooms
40 seater cafe and tea rooms serving breakfasts, lunches and afternoon teas as well as teas, coffees and cakes.
Open: Mon–Fri, 10am–4pm / Sat, 9am–4.30pm / Sun, 11am–3pm Tel: 07979 958931
Reopened
Bird's Yard
Multiple award-winning Bird's Yard prides itself on showing the best of local talent and many other global designers.
Open: Mon–Fri, 10am–6pm / Sat, 9.30am–5.30pm / Sun, 11am–4pm Tel: 0114 278 8709. Visit: www.birdsyard.co.uk
Reopened
Cards & Gifts
A huge range of cards and gifts – with the personal service and great value you can only experience at an independent.
Open: Mon–Sat, 8:30am–5:30pm / Sun, 11am–3pm Tel: 0114 275 0169. Visit: www.cardsgiftssheffield.co.uk
Reopened
Dr. Martens
Men's, women's, unisex and kids' shoes and boots – plus clothing – from an iconic brand.
Open: Mon–Sat, 9:30am–6pm Tel: 0114 272 5435. Visit: www.drmartens.com
Reopened

Feast
Offering breakfast, lunch and snacks since 2007, Feast is famous for fresh, quality ingredients, a friendly welcome and great value. Open: Mon–Fri, 7am–3:30pm / Sat, 8am–3:30pm Tel: 0114 276 2862. Visit: www.feastfood.co.uk. 
Currently closed

Foundry Sheffield, The / Victoria Hall Methodist Church
The Main Hall is the perfect venue for concerts, conferences and events, as well as a place of worship for the Methodist congregation and others. Mon, 9am–9pm / Tues, 9am–9.30pm / Wed, 9am–6pm / Thurs, 9am–9pm / Fri, 9am–6pm / Sat, 9am–6.30pm Tel: 0114 272 1749 Email: vichallmethodist@btconnect.com. Visit: www.foundrysheffield.org.uk
Currently closed
Marks & Spencer
Established in 1884. Quality fashion and outstanding food, all responsibly sourced. Open: Mon–Wed, 8am–6pm / Thurs, 8am–7pm / Fri, 8am–6pm / Sat, 8am–6pm / Sun, 11am–5pm Tel: 0114 275 4913. Visit: www.marksandspencer.com

Paperchase
Contemporary cards, gifts and paper products. Open: Mon–Sat, 9am–6pm / Sun, 11am–5pm Tel: 0114 272 3261.Visit www.paperchase.com
Closed until further notice
Phone Extras
Great value phone covers, cables, adapters, batteries and other accessories. Open: Mon-Sat, 9:30am–5:30pm Tel: 0114 275 8000 25. Visit www.phoneextras2013.wixsite.com/website
Reopened

Samaritans, The
Quality pre-loved clothing, shoes, jewellery, bric-a-brac, DVDs, books, vinyl, small electrical and homeware. Open: Mon–Sat, 10am–4pm Tel: 0114 272 4010 Visit: www.samaritans.org
Reopened
Sanctuary, The
The Sanctuary is a bright and vibrant place where asylum seekers and refugees can come for information, advice and support. Open: Mon–Thurs, 10am–4pm Tel: 0114 221 1845. Visit: www.sheffield.cityofsanctuary.org
Currently closed
Staniforths
Staniforths have been offering freshly baked breads, cakes and confectionery throughout South Yorkshire since 1940. Open: Mon–Fri, 8am–4pm / Sat, 8am–3.15pm Tel: 0114 272 1649. Visit: www.staniforths-rawmarsh.co.uk
Currently closed
Stitch Express
Tailor for clothing repairs and alterations. Open: Mon-Sat 9am-4pm Tel: 0114 2765871
Reopened
Superdrug
Britain's most fashion conscious beauty and health retailer. Open: Mon–Fri, 8am–6pm / Sat, 8:30am–5.30pm Visit: www.superdrug.com.
Currently closed
Thou Art Tattoo
Piercing, laser and body modification studio located in the heart of Sheffield. Open: Mon-Fri, 10:30am–6pm / Sat, 10:30am–7pm / Sun, 11am–5pm Tel: 0114 270 0985
Currently closed
VN Nails Salon
Acrylics, gels, shellac – in a range of colours and designs. Plus general nail care. Tel: 0114 275 0589
Currently closed