Beer gardens and alfresco dining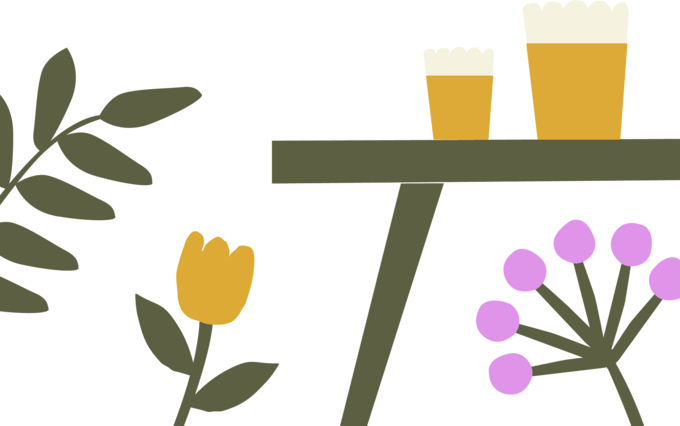 Spring weather is arriving, and so too are promises of outdoor food and drinks with family and friends. Unless the government's roadmap out of lockdown changes, from 12 April beer gardens will be able to reopen with certain safety measures in place. Please check with individual venues in advance as many will be operating a booking system. Government guidelines currently allow for groups of six (from mixed households) or six+ from two households to meet outdoors. Read on for the city centre spots planning to serve outdoors.
Benjamin Huntsman
This Wetherspoon pub is all set to welcome people back to its garden, hidden away behind Cambridge Street. It'll be offering a slightly reduced food menu, and customers can order through the Wetherspoon app or at their table. No booking required. 12-18 Cambridge Street, S1 4HP jdwetherspoon.com
Cubana
From Friday 16 April to Sunday 16 May, you will be able to prebook for table service and enjoy a delicious mix of tapas and drinks on Cubana's outdoor terrace. Cubana will be open Friday-Sunday onlys until 11pm. Unit 4, Leopold Square, S1 2JG cubanatapasbar.co.uk
Ego Mediterranean Restaurant
Ego will be serving its freshly cooked Mediterranean cuisine including French, Spanish, Italian, Greek and Moroccan dishes from 12 April. Enjoy everything from chargrilled steaks, hanging kebabs, fresh fish and seafood, pizza, pasta and paella. Plus, we also have dedicated gluten free and vegan menus, afternoon tea and two children's menus so there's something for everyone. 88 Surrey Street, S1 2LH. Book in advance at egorestaurants.co.uk/restaurant-sheffield
Forum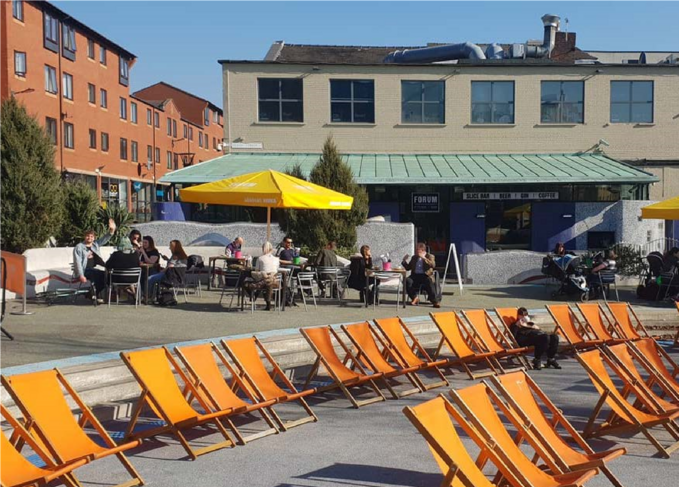 The Forum's terrace overlooking Devonshire Green is one of the most appealing outdoor drinking and dining spots in the city centre. They're taking bookings and will also have space for walk-ins. You can opt for a seat under the marquee if it's forecast rain. 129 Devonshire Street, S3 7SB forumsheffield.co.uk
The Gatesby Bar
The Great Gatsby is the home of Shy Boy Cantina, Mexican inspired street food. It's got one of the sunniest beer gardens in the city centre. It's a great place to hang out for the great and the good of this fine city. Booking required. 73-75 Division Street, S1 4GE  www.thegatsbybar.co.uk
The Head of Steam
The Head of Steam bar has annouced it will re-opening its doors on 12 April. More details on service times and bookings will be made soon! Check social media channels for details via website. 103-107 Norfolk Street, S1 2JE theheadofsteam.co.uk/bars/sheffield
Industry Tap
A great social space to enjoy fantastic craft beer in a relaxed friendly environment. Tap into more choice with 21 keg lines and dedicated fridge space ensures that most tastes are catered for, all supplemented with a full spirits and soft drinks range. 85 Sidney Street, S1 4RG www.industrytap.co.uk
Lane 7
The Moor's Lane7 bowling alley has signed a temporary deal to take over the former Plug nightclub and host a new drinking and dining area, taking advantage of a nearby empty building and breathing a new lease of life into the historic venue. The 200-person capacity outdoor space will be located in Plug's car park and will feature its own bar, street food traders and a big screen. The venue is scheduled to open on Monday 12 April and bookings can now be made online.
The Leadmill
An icon of independent music in Sheffield, the Leadmill has been at the centre of the city's music scene for three decades. Constantly innovating during the Pandemic, this iconic venue is now operating The Leadmill Beer Garden from 12 April (5pm til 10pm Mon-Fri, 2pm till 10pm Saturdays and 2pm till 7pm Sundays). Operating on a first-come, first-served service with no bookings. Check Twitter (@leadmill) regularly for availability. Also weather dependent. 6 Leadmill Road, S1 4SE leadmill.co.uk
OHM Food Yard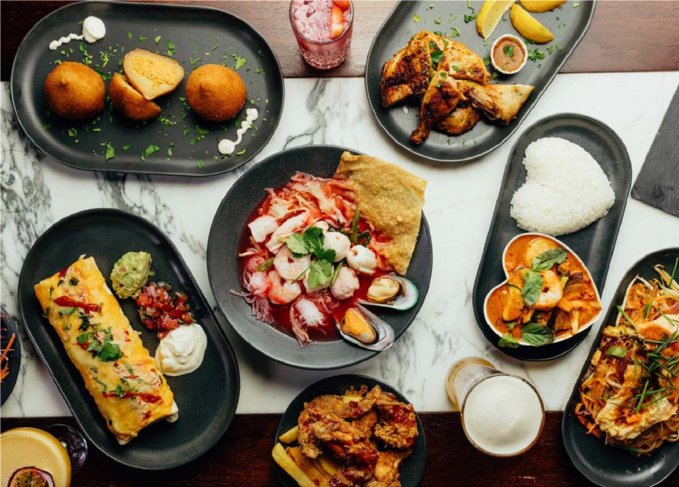 The collection of independent vendors at OHM covers Portuguese specialities, Thai curries, and NYC-style pizza. They're looking forward to welcoming visitors back and are taking advance bookings now. Unit 14, West One Plaza, 12 Fitzwilliam Street, S1 4JB ohmfoodyard.com
Piccolino
Piccolino proudly boasts an open kitchen, cocktail bar and large terrace featuring a fully retractable roof to ensure the ultimate alfresco experience rain or shine. Book online to eat outdoors from 12 April. 4 Milleninum Square, S1 2JJ  piccolinorestaurants.com
Pho Sheffield
Famous for its Vietnamese street food, Pho Sheffield will be open for outdoor dining from 12 April. No booking required. 6 Leopold Square, S1 2JG phocafe.co.uk
Revolution Sheffield
Located in Sheffield's West One development, Revolution Sheffield will be opening its outside space from 12 April so come and join them at one of the trendiest cocktail bars and restaurants in Sheffield. Advance bookings essential. The Plaza, S1 4JL revolution-bars.co.uk 
The Sheffield Tap
Located within the Grecian architecture of Sheffield Midland Railway Station and lovingly restored to its former glory, the Sheffield Tap offers 11 traditional hand pulls and 14 different keg beers, as well as a large selection of bottles and cans. Its on-site microbrewery "Tapped Brew Co." brews weekly and the latest freshest beer can be found on the bar. It will be opening its beer garden once again from 12 April and will not be operating a booking system. Sheffield Station, Sheaf Street S1 2PB sheffieldtap.com
The Sheffield Water Works Company
This Palazzo-style office building turned Wetherspoon pub will offer coffees, drinks and a slightly reduced food menu in its outside area. No booking required. 2-12 Division Street, S1 4GF jdwetherspoon.com
Sidney & Matilda
This grass roots independent bar and gallery will be reopening from Friday, 16 April at 6pm with a new look, outdoor only, version of Sidney & Matilda. More info coming soon on their facebook page. Rivelin Works, Sidney Street S1 4RH facebook.com/Sidneyandmatilda
Slug and Lettuce
Days of cocktails in the sun with friends are on the horizon once again at this popular chain bar. Book in advance. 18 Holly Street, S1 2GT slugandlettuce.co.uk
Triple Point Brewery and Bar
Enjoy a cold beer, fresh from the onsite brewery at Triple Point. As well as their award-winning and very locally-made range of IPAs, pale ales and lagers, they'll also be serving Twisted Burgers in the garden. Book in advance. Some tables will also be available for walk-ins. 178 Shoreham Steet, S1 4SQ triplepointbrewing.co.uk
Turtle Bay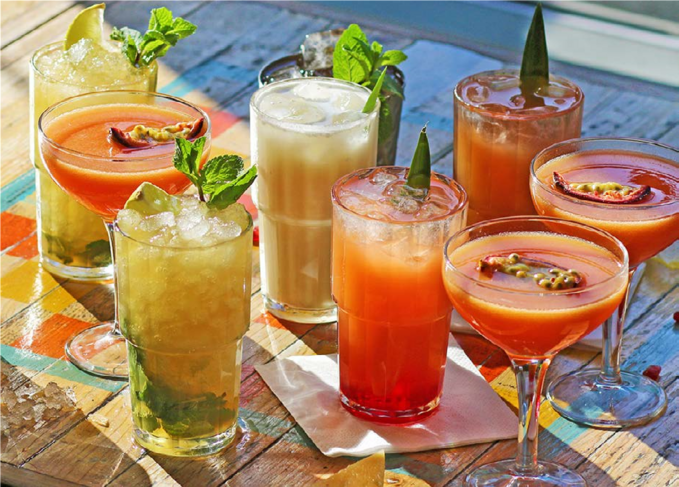 Get a taste of Caribbean paradise right in the heart of Sheffield. Turtle Bay's 'Beachfront' reopens from 12 April, serving up tropical-inspired cocktails and jerk-infused dishes outdoors. Meanwhile inside dining will be on the cards again from 17 May. Booking for both are open now. Holly Street, S1 2GT turtlebay.co.uk
Wagamama
The popular Japanese and Asian food-inspired noodle and katsu curry chain will be open for al fresco dining from 12 April.  Leopold Square, S1 2JG wagamama.com
Walkabout
From sparkling rosé to Jäger-bombs to alcohol-free cider – whatever your tipple, Walkabout will pour it. The Aussie-themed sports bar will be reopening its garden with advance bookings. Carver Street, S1 4FS walkaboutbars.co.uk
The Washington
The much-loved, music-loving, independently-spirited Washy is back. They've done up the beer garden with extra heaters and covered areas, plus tables ideally sized for the rule of six – making it a comfy spot for outdoor drinks with friendly faces no matter the weather. Book in advance via the pub's Facebook page. 79 Fitzwilliam Street, S1 4JP facebook.com/washingtonsheffield
Zizzi
This popular restaurant will be serving up tasty Italian dishes from pizza, pasta and risotto to salads and indulgent desserts but always with a twist – like a classic Carbonara with a chorizo crumb or a traditional garlic bread with mozzarella & 'Nduja sausage. Reopening for alfresco dining 12 April. Leopold Square, S1 2JG zizzi.co.uk