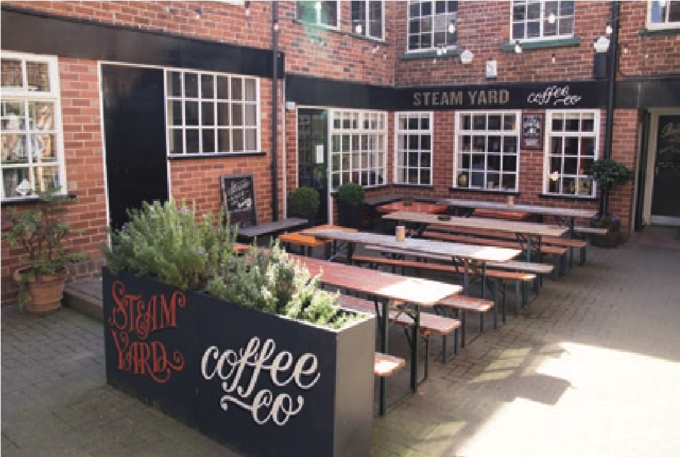 The coffee culture is thriving in the city, and Sheffield is quickly making itself known as a hub of ethical, carefully crafted coffee. There are unique coffee shops springing up all over.
CAFES, COFFEE SHOPS AND TEA ROOMS
200 Degrees Coffee
200 Degrees Coffee was founded by University of Nottingham alumni Rob Darby and Tom Vincent. In 2012 the pair began roasting coffee in their garage, and just two years later the first 200˚ Coffee shop was opened in Nottingham. Since then Rob and Tom have opened coffee shops in some of the UK's coolest cities. There are now seven 200˚ Coffee shops around the country, including on Sheffield's own Division Street. Expect lovingly roasted coffee, pastries, baguettes and wraps in a cool, inviting setting that links with Sheffield's industrial past, featuring a distressed copper wall installed by Tom himself.
25 Division Street 200Degs.com
1554 Coffee
Coffee house with unique industrial décor, serving breakfast and lunch. Wide-ranging food menu to suit a variety of tastes. Burgers, pizzas and flatbreads.

Sheffield Cathedral, Church Street 1554-coffee
Albies Coffee House
Slightly tucked away from the city centre chaos but still within the city centre, Albie's is the perfect place for a catch up with friends over lunch. Having open in 2018, Albies is a thriving café run by brother and sister team Robyn and Fraser Hodges. Albie's offers speciality coffees, breakfast and lunch items, from early morning to late afternoon.
22 Snig Hill - albiescoffee.co.uk
ANDREWS Cafe & Tea Rooms
A family run, independent business you can expect great service and a welcoming smile from owner Andrew and his team. ANDREWS Café Tea Rooms is a favourite with shoppers, theatregoers, ladies who lunch and students alike – in fact, it's a must-visit for international students eager to experience its quintessential English charm.
Chapel Walk , Sheffield
Birdhouse Tea Bar & Kitchen
Their coffee is provided by Sheffield's finest, Foundry Coffee Roasters, hand pulled by Birdhouse's team of specialist Baristas. Grab a drink to go from our takeaway bar, or sit in for while and relax. Birdhouse Tea Bar and Kitchen also offers a delicious and healthy food menu making use of high quality local produce. Menu items include a delicious all day brunch menu with plenty of options for vegan and gluten-free lifestyles. Pastries, cakes and desserts are another highlight, with a variety of beautiful home baked treats to start off your day or finish your meal.
Alsop Fields, Sidney Street www.birdhouseteacompany.com
Blue Moon Cafe
Found in the heart of the city centre, the Blue Moon Cafe offers a variety of vegetarian and vegan dishes at fantastic prices. Its friendly, airy atmosphere and superb homemade food make it perfect for a light bite and a catch-up with friends.
2 St James Row www.bluemooncafesheffield.com
Cabin, The
Pancake, waffles, milkshakes and coffee restaurant
20-24 Fitzwilliam Gate - www.thecabin-sheffield.co.uk
Copper Pot, The
Lovely little venue serving coffee and a selection of sandwiches, Tuscan flat bread melts, hotdogs, burgers, vhicken wings and wedges.
68 Division Street www.copperpot.cafe
Couch
Coffee house with unique industrial décor, serving breakfast and lunch. Wide-ranging food menu to suit a variety of tastes. Burgers, pizzas and flatbreads.
29–31 Campo Lane couchstuff.co.uk
Extra Life Gaming Lounge
A family-friendly café with a difference. Enjoy a variety of hot and cold snacks, freshly ground coffee, refreshing smoothie or an ice-cold ice cream milk shake in this fab video games café.
24 Commercial Street – extralifegaminglounge.co.uk
Feast
Delicious food and delectable drinks are the order of the day at Feast. All their food is freshly prepared on-site and their menu features a plentiful choice of salads, wraps, paninis, homemade cakes, snacks, hot drinks and smoothies. Take a seat in the window or have your food to go.
31 Chapel Walk www.feastfood.co.uk
Foodhall
With a pay-as-you-feel approach, Foodhall uses food which would have otherwise gone to waste to create healthy meals to serve in its DIY interior space.
121 Eyre Street www.foodhallproject.org
Fusion Organic Café
An organic cafe which offers freshly-made and locally-sourced dishes on a daily basis, Fusion is renowned for its great salads and light bites as well as its coffee.

74 Arundel Street academyofmakers.co.uk/fusion-cafe
Gaard Coffee Hide – West One
A dog-friendly Vegan Cafe with lots of great vegetarian options. Gaard offers a speciality roasted coffee from Foundation Coffee, loose leaf and bagged teas from Suki, plus a cosy cafe environment with warm comfortable seating.
8 Fitzwilliam Street - facebook.com/GaardCoffee/
Grace and Flavour
Open at the crack of dawn for early morning caffeine fixes and throughout lunch is this classic salad and sandwich deli bar.
10 Orchard Street
HowSt Café
HowSt's modern and stylish interior combined with its nourishing meals and creamy coffee make it the perfect choice for breakfast, brunch or lunch.
46 Howard Street howst.co.uk
Hygge Cafe
Centred around the Danish noun of the same name, Sheffield's very own taste of Denmark Hygge serves fabulous coffee and freshly made sandwiches and cakes in a completely unique space designed for cosiness and comfort to ceate a feeling of contentment and well-being.
14 Fitzalan Square - hyggecafes.com
Kollective Kitchen
The Kollective Coffee and Kitchen is the stunning on-site café at The Site Gallery – Sheffield's international contemporary art space - serving colourful freshly prepared dishes with some of the best coffee and cake in Sheffield.
1 Brown Street - kollectivekitchen.co.uk
Kommune Food Hall
Kommune is an innovative concept bringing together some of the most acclaimed, independent kitchens, brewers and retailers in a unique, urban space. This new meeting place is home to a diverse choice of great tasting food, an artisanal bakery and specialty coffee, independent retail and an iconic bar.
Castle House, Angel Street www.kommune.co.uk
Lynne's cafe
Lynne's Pantry is a Sheffield gem! Founded in 1978, its one of Sheffield's oldest cafes, tucked away amid the Surrey Street cobbles. Good hearty traditional food is the core of Lynne's Pantry.
39 Surrey Street - lynnespantry.co.uk
Marmadukes
Nestled in the heart of Sheffield, Marmadukes is the perfect weekend lunch location thanks to its delicious deli sandwiches and salads and its superb range of drinks. Be sure to take in the beautiful rustic interior while enjoying their rich coffee and cakes.
22 Norfolk Row and 42 Cambridge Street www.marmadukes.co
Steam Yard
Opened by friends Matt and Nick back in 2014, Steam Yard is the perfect place to escape the hustle and bustle of town, and relax in style. No reservations, no Wi-Fi, just good coffee and great service – what more do you want? Last summer Steam Yard was named one of 'Britain's 30 best places for brunch' – and it won't disappoint. The food menu perfectly straddles between breakfast and lunch, so there's something for everyone, whatever time of day you visit. And then there's the cakes! Some of the most tempting looking treats you've probably ever seen – perfect with anything off their extensive drinks menu.
95-101 Division Street steamyard.co.uk
Tamper Sellers Wheel
A great little coffee shop with a New Zealand twist. Speak to the staff and you soon realise the staff are all complete coffee geeks. It has five different types of coffee on rotation, and staff can all tell you about the differences in great detail. Tamper brought the best of Kiwi café culture to Sheffield, with a laid back atmosphere and a New Zealand inspired brunch menu served till 3pm – plus a selection of fresh cakes and breads delivered daily by Depot Bakery. It's also a hotbed of creativity, with many customers taking advantage of the relaxed atmosphere and amazing coffee to do some work.
Illustrator Adi Carter is one of Tamper Coffee's creative regulars, "It's like a second office for me. I love how friendly everyone is and I always seem to get so much more done when I'm here. And of course, the coffee is out of this world".
149 Arundel Street (also at Kommune) www.tampercoffee.co.uk
Wagon 1871
4 Leadmill Road www.wagon-1871.co.uk
Wellies
140 Charles Street eat-wellies.com
HIGH STREET COFFEE
The City Centre is home to all the popular high street coffee chains. McDonalds' coffee is surprisingly great. And then there's that great British institution, known for its pastries and pasties: Greggs. Greggs sell a variety of hot drinks in all their stores, and they're pretty proud of their 100% Fairtrade coffee blend. All of our high street brands work hard on presenttion, aroma, taste, value for money and of course sustainability.
Costa Coffee - Pinstone Street, Orchard Square and The Moor
Caffe Nero - Fargate and The Moor
Cuppacha Bubble Tea - Orchard Sqaure
Greggs - Fargate and The Moor
McDonalds - High Street
Starbucks - Fargate and Tudor Square
Department Stores Marks & Spencer (Fargate) and Atkinsons (The Moor) both have their own in-store cafes.