Home to everything from a legendary rock club to an iconic indie venue, chilled out R&B spots to proudly cheesy dancefloors, the city centre is a destination for music lovers of any and all persuasions.
Our guide will help you discover some of the places that really know how to get the city centre moving. The many different and varied spots that become beacons for dancers, revellers and night owls. These are the venues that keep things lively until the early hours with something for every night of the week.
Currently restrictions due to COVID 19 are affecting these venues so please check with individual night spots.
Code Nightclub
This place knows how to party. The target audience at Code is very much students, with a 90p Party on Tuesdays (yes, that's 90p entry and 90p drinks, all night), the longstanding Jump Around night on Thursdays complete with inflatables, face painting and confetti cannons, and Student Saturdays enticing massive crowds with their wide range of music and £2 drinks offers. All of this has helped it win the Exposed Awards vote for Sheffield's best nightclub each year since 2016.
28 Eyre Street, S1 4QY codesheffield.com
Corporation
The home of rock and alternative music in Sheffield since 1997. Corp, as it's affectionately known, spans three floors and was named by Kerrang! magazine as one of the country's top three rock clubs. Wednesday's pop and indie Skool Disco is a student staple, offering discounts to anyone in a school shirt and tie. On Fridays the main room leans towards emo and pop-punk. And on Saturdays, Corp is possibly the only place in the city where you get moving to Rammstein, the Prodigy and Blondie in the same night.
2 Milton Street, S1 4JU corporation.org.uk
Crystal
One of many examples of a former cutlery works finding a new lease of life in Sheffield, Crystal is a cool and intimate space, all exposed brickwork, parquet floors and cosy booths. The nightclub is popular with students on weeknights, and on Saturdays it gets people moving to house, R&B and soul.
23—32 Carver Street, S1 4FS crystalbar.uk.com
Dempsey's
Popular and long-established gay bar and nightclub with a dance floor and resident DJs plus karaoke and games nights.
1 Hereford Street, S1 4PR - facebook.com/DempseysSheffield
Dtour Music Bar and Lounge
R&B and house music are the specialities at Dtour, and it delivers them in style. You'll also regularly hear dancehall, soul, garage, bassline and Afrobeats at special events here. The elegant bar and club is one for a slightly more mature crowd, with an over-25s policy at weekends. If you're looking for an extra level of exclusivity, book out one of the private rooms and settle down for a night with the karaoke machine or PlayStation.
192 Shoreham Street, S1 4SQ facebook.com/dtourlounge
Duality Bar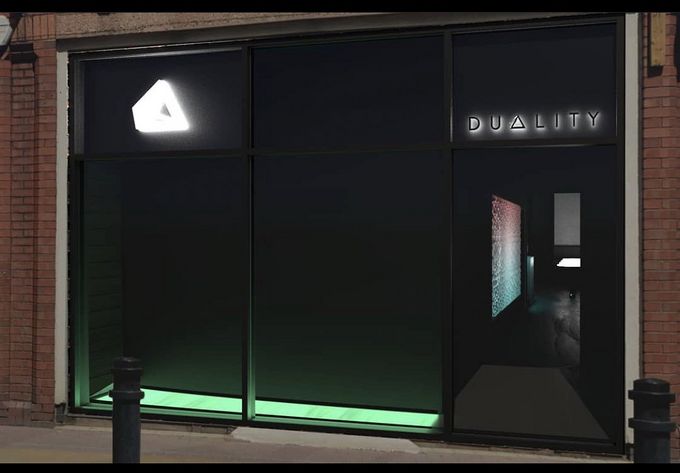 Duality is a brand new showcase destination for DJs, live music and private gatherings in an events space never the same as before. It promises ground breaking sights and sounds using the latest in projection technologies, challenging all you think you know about what a night time venue can do! .It's not just another room in another bar. It can take you anywhere, using state of the art projection technology  the walls into a 360 degree screen. Be in New York one minute, Hong Kong the next or be immersed in unreal animation. It's designed to take you from the mundane. From reality... To Duality. Bespoke drinking experiences are meticulously prepared for a transportative journey that complements your visual expedition perfectly
106 Devonshire Street, S3 7SF dualitybars.com
Leadmill, The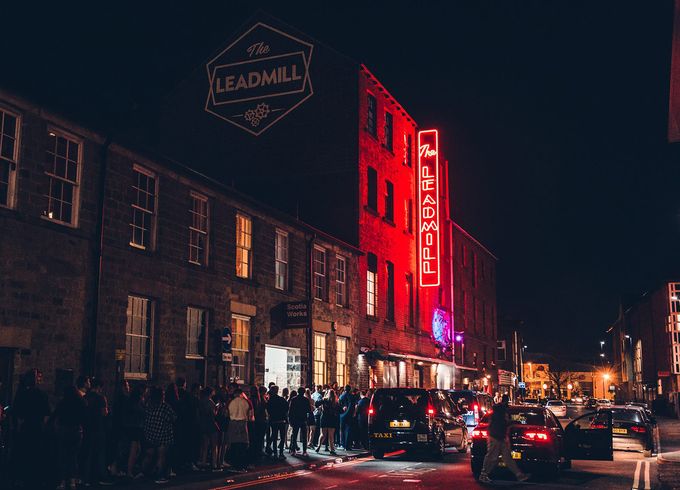 An icon of independent music in Sheffield, the Leadmill has been at the centre of the city's music scene for three decades. The 80s brought everything from post punk to Culture Club to the venue. In the 90s it was Britpoppers Oasis, The Verve, Elastica and Suede, and the grungier likes of Babes in Toyland and Mudhoney. And in the 00s came the turn of the Strokes, White Stripes, Yeah Yeah Yeahs, and – of course – Arctic Monkeys. It still hosts live music, a comedy gig or a club night most nights of the week.
6 Leadmill Road, S1 4SE leadmill.co.uk
Maggie May's
Proudly calling itself the 'home of the classic oldie', Maggie May's is the place to enjoy soul music in Sheffield city centre. Saturday is dedicated to northern soul, with guest DJs taking to the decks from 3pm onwards. At all other times, expect to bow down and get moving to some of the greatest musical icons from the 60s through to the 00s.
23 Trippet Lane, S1 4FG maggiemayssheffield.com
O2 Academy
Sheffield The modernist building that now houses the Academy has a long legacy in Sheffield's music scene, having entertained previous generations as the Top Rank Suite and Roxy Disco. Gigs in its big auditorium range from rock to reggae to rap, while club nights regularly keep crowds lively through to the early hours.
37—43 Arundel Gate, S1 2PN academymusicgroup.com/ o2academysheffield
Popworld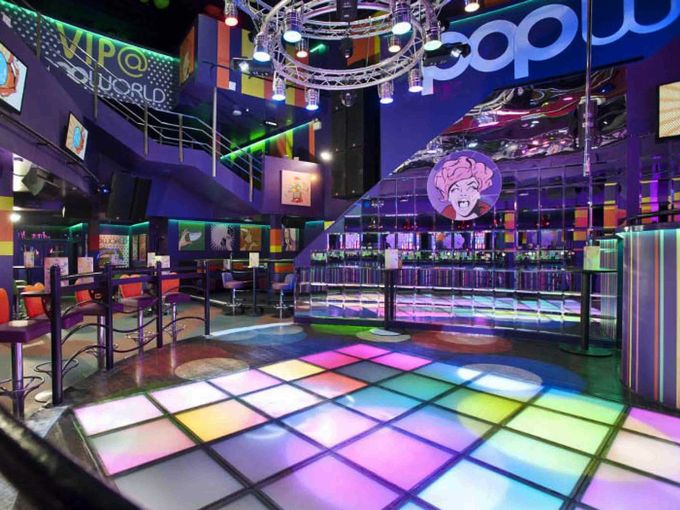 Cheesy and proud. The music collection at Popworld is heavy on the 90s nostalgia — expect to get your dancing shoes on to the likes of Five, Atomic Kitten and S Club. Join in the karaoke every Saturday before 10pm, grab a 'partini' cocktail to share amongst friends, and keep the good times going through to the early hours. Popworld is conveniently situated in the thick of the Devonshire Quarter, a students' paradise that's home to bar after bar.
2—8 Carver Street, S1 4FS popworldparty.co.uk/sheffield
Players Bar 
Located on West St in the heart of the city is a single floored venue with exclusive VIP lounge, featuring luxury booth seating, dimmed lighting and cool decor! A variety of spaces and areas can accommodate private events for all occasions.
125-127 West Street, S1 4ER playersbar.com
Soyo
Occupying what was once one of Sheffield's historical Methodist churches, this stylish late bar has it all: comfy armchairs, a dance floor, cracking drinks deals, and even cocktail masterclasses. Local resident DJs provide the perfect soundtrack to wind down and put on your dancing shoes, with weekends tending to lean towards house, disco, soul and R&B.
117 Rockingham Street, S1 4EB soyo.me
Viper Rooms, The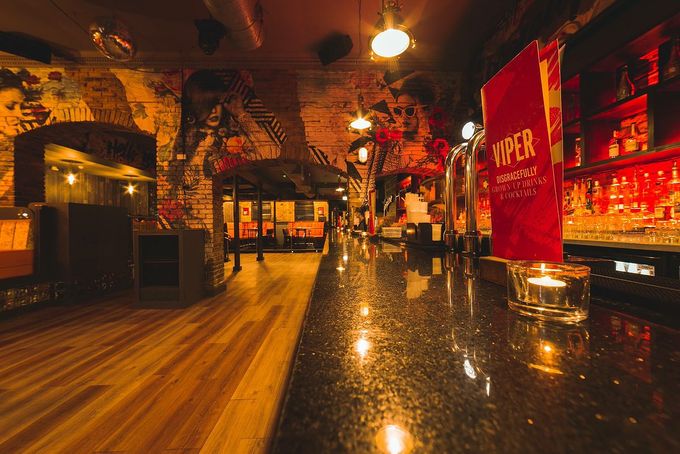 Priding itself on bringing a bit of glam to your nights out, the Viper Rooms has an extensive cocktail and champagne list, confetti cannons, and VIP booths. Its calendar boasts something for every night of the week. From Monday to Thursday it focuses on student crowds, Fridays are all about R&B and pop anthems, Saturdays get more eclectic, while the week rounds off with a Sunday session of 90s R&B and hip-hop through to 3am.
35 Carver Street, S1 4FS sheffield.theviperrooms.com
West Street Live
From local covers bands that play all your favourite songs ranging from 50's rock and roll to today's indie and chart hits West Street Live hosts original local and touring bands, hosted by one of carefully selected promoters.
128 West Street, S1 4EW weststreetlive.co.uk