Shop Local during #lockdown3
Here's our guide to some of the hidden gems and local businesses that make Sheffield a truly independent and vibrant city centre. Let's get out there and support them!  We urge Sheffield residents to think about their purchasing choices in the days and months ahead to help ensure our local businesses stay in business. Remember, shop safely and please shop local.
All Good Stuff
Establised in 2000, All Good Stuff emerged out of a pursuit to inspire and support the community. This not-for-profit gallery shop is quite literally full of all good stuff! 
72 Arundel Street - shop online at www.allgoodstuff.uk
Alternative Store, The
The Alternative Store has been supplying streetwear to Sheffield for more than twenty five years. They sell top quality, modern street fashion hand-picked from a combination of the best homegrown UK brands and American brands, including SABBC and Test Your Strength, Rebel8, Crooks & Castles and 10 Deep.
121 Devonshire Street - shop online at www.thealternativestore.net
Andaa at Home
Whether you're a catering professional or a passionate home cook who appreciates quality, Andaa has everything you could want. Their extensive range of high quality products includes baking, cookware, cutlery, kitchenware, knives, tableware and textiles – as well as some great gift ideas. You'll find all the top brands and eco-friendly products. As an independent you can expect a truly personal service, a guaranteed smile when you walk through the door, and expert staff who will take the time to help you find exactly what you need.
Chapel Walk - Tel: 0114 272 0179 - shop online at www.andaahome.com
Atkinsons
Sheffield's longstanding and only independent department store, Atkinsons has a fabulous range of homewares and appliances on sale through their website. Perfect for making the most of this extra time spent at home.
The Moor - shop online at www.atkinsonsofsheffield.co.uk
Balance
Considered to be one of Sheffield's best head shops, selling a variety of smoking apparatus and oil gears, Balance also sells homeware, posters, throws and clothing.
156 Devonshire Street - Tel: 0114 249 1220 - shop online at www.lifeisbalance.co.uk
Bear Tree Records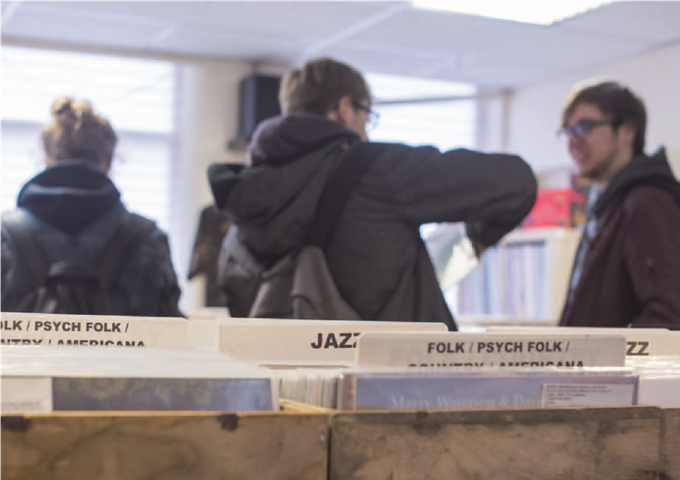 Bear Tree Records holds an extensive and carefully-picked collection of both new and used vinyl of all genres, ranging from jazz to punk to techno. With a description by the owner on every record, this record shop offers an intimate shopping experience quite unlike any other.
Forum Shops, Devonshire Street - Tel: 0114 275 130. Shop online at www.beartreerecords.com
Beer Central
The Moor Market is open so you can still access Beer Central or alternatively buy online from chefchef.store. Beer Central is stocked with beers brewed both locally and internationally. Its owners Sean Clarke and Deborah Jackson are always forthcoming with suggestions, making this the city centre's go-to place when you want to enjoy a great drink at home.
The Moor Market, Earl Street - Tel:  0114 275 5990. Shop online at www.chefchef.store
Birdhouse Tea Bar & Kitchen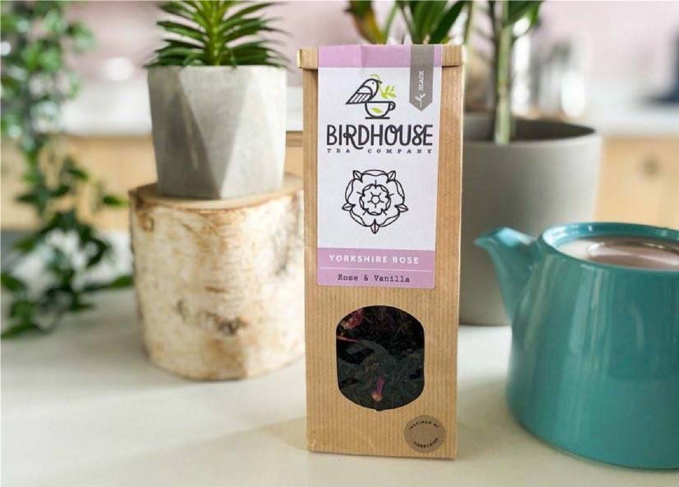 Mother and Daughter team, Rebecca and Julie, began their journey in 2012 with a love for all things tea, the health benefits of herbs and a dream to share their passion and knowledge. During lockdown you can still shop online for artisan blends, tea ware and gifts. Birdhouse is open for takeaway brunch at weekends (starting 9 January).
Alsop Fields, Sidney Street - Tel: 0114 327 3695. Shop online at www.birdhouseteacompany.com
Birds Yard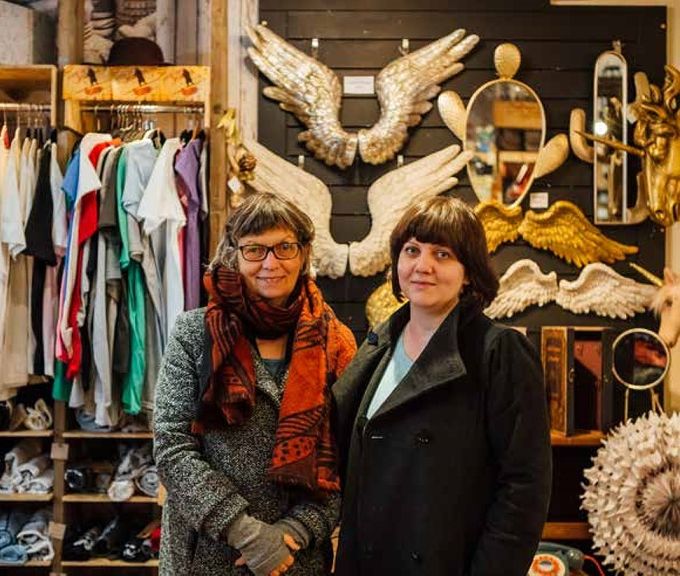 An Aladdin's cave of the weird, wonderful and fabulous, the multi-award winning retailer prides itself on showing the best of local and global talent – and the perfect place to start if you're buying gifts or treating yourself to something a little bit special. From kooky lighting and homeware to art, clothing and jewellery, you'll be amazed by what you'll find at Birds Yard – where else could you find a unicorn wall trophy, a knitted cactus or bust of a rhino in officer's uniform? Birds Yard is ashowcase for many of Sheffield's creative designers, illustrators and craft community – all handpicked by the owner to maintain Bird's unique style.
Chapel Walk - Tel: 0114 278 8709. Shop online at www.birdsyard.co.uk
Browns Family Jewellers
Browns Family Jewellers place honesty and integrity at the heart of their business. With over twenty years experience and a wealth of knowledge, they specialise in vintage, antique and new jewellery for men and women. You'll find a beautiful range of jewellery, including engagement and wedding rings, and service with a personal touch.
107 Pinstone Street - shop online at www.brownsfamilyjewellers.co.uk
Cards & Gifts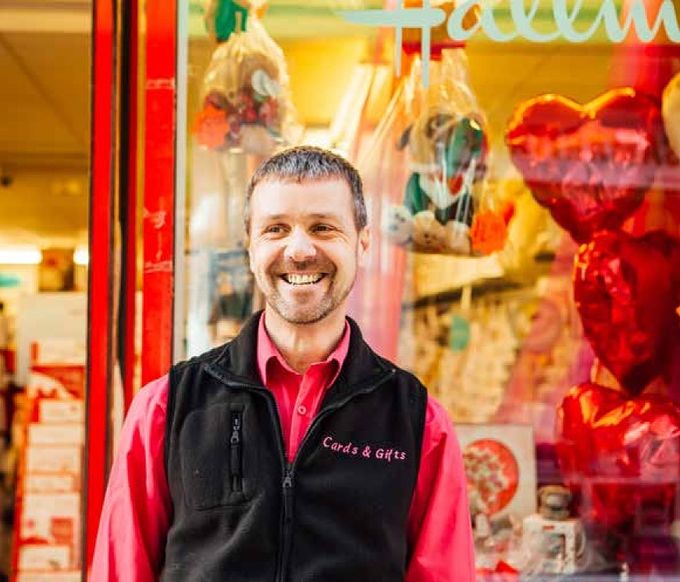 A huge range of cards and gifts – with the personal service and great value you can only experience at an independent. You'll find top quality cards for every occasion and age – some you won't find anywhere else on the high street. Plus, wrapping paper, gifts, badges, helium balloons and lots more. Cards & Gifts boasts the largest collection of 'Me to You' teddies for miles around – but if you want something truly unique, try Creation Express, their personalised gift service. The perfect way to make your gift extra special.
Chapel Walk - Tel: 0114 2750169. Shop online at www.cardsgiftssheffield.co.uk
CollardManson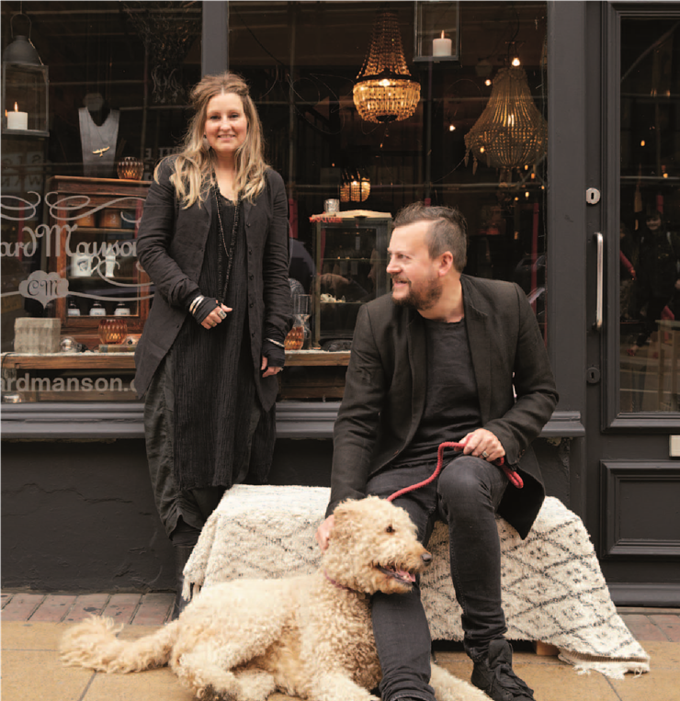 CollardManson is like nowhere else in Sheffield – or anywhere. Its unique collection of clothing, gifts, jewellery, bags, homeware and curiosities make it completely unique. Among the collection you'll find plenty of CollardManson's own label clothes as well as choice pieces from Wolf and Moon, Goti, Rundholz, WDTS, Thom Krom and Mes Demoiselles. CollardManson create and curate – and only sell things they like, referencing trends but not necessarily following them. Their theory is, if you like the store's clothes, you'll probably like the store's homeware and everything else they sell – it all feels connected and carefully put together. 
123-125 Devonshire Street - shop online at www.collardmanson.co.uk
Corporation
Corporation is one of the top three live band venue and alternative music nightclubs in the UK. If you love Corp, wear Corp - full range of merchanise is available to buy online, including t-shirts, hoodies, hats and face coverings. 
2 Milton Street - shop online at www.corpmerch.co.uk
Eton Clothing

Eton is the home of up-to-the-minute fashion in South Yorkshire, offering designer menswear and a personal service for more than 30 years. With exclusive items from a range of top designers, including Burberry, Philipp Plein, Stone Island, Kenso and Dsquared, there's no wonder fashion-conscious customers remain loyal.You can browse Eton's core range on its website. 
65 Division Street - Tel: 0114 272 448. Shop online at www.eton-clothing.co.uk
Frameworks
Framework has earned a reputation as one of the leading picture framing companies in Sheffield. Established in 1992, its fine reputation has been earned by delivering high quality workmanship and exceptional service to their loyal customers.
114 The Moor - shop online at www.frameworkgallery.co.uk
Freshmans Boutique
Filled with vintage gems, Freshmans Boutique is the longstanding destination for men's and women's vintage in Sheffield.
6-8 Carver Street - shop online at www.freshmansvintagestore.com.
Green + Benz
If you're looking for a truly special piece of jewellery, Green + Benz should be at the very top of your list. Owner Helen Dimmick is a certified diamond grader. Green + Benz has a huge range of contemporary jewellery – including exclusive collections from German, Swiss and British designers who have specifically chosen Green + Benz to stock their items. Or if you want something unique, it can create anything you want in its Chesterfield workshop. 
71 Division Street - Tel: 0114 270 6366. Shop online at www.greenandbenz.com
H.L. Brown
Founded in 1861 by Harris Brown, this jewellers has stood the test of time to become one of Yorkshire's leading jewellery specialists. The family-run, independent business offers a stunning range of gold and silver jewellery, watches and clocks, and also stocks a magnificent selection of gem, antique and period pieces. Services include valuations, refurbishments, repairs and servicing. The retailer is also renowned for its beautiful diamond collection, if you're looking for something that sparkles.
2 Barker's Pool. Shop online at www.hl-brown.co.uk
Hop Hideout
Hop Hideout is a specialist craft beer and cider shop featuring over 200 beers, a hand-picked selection of ciders and natural, organic and skin-contact wines. It's award-winning approach to retail is dedicated to showcasing greatness from Yorkshire and beyond.
Castle House (Kommune) - shop online at www.hophideout.co.uk
La Biblioteka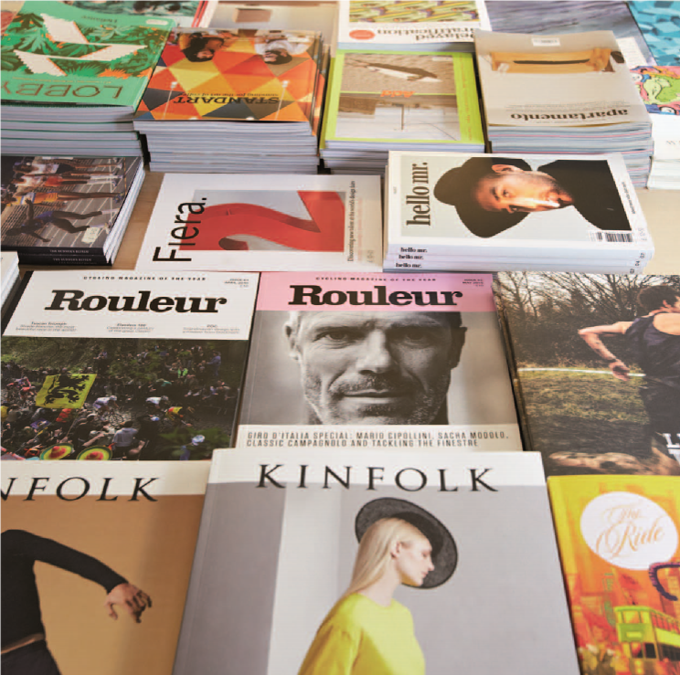 Nomadic independent print purveyors La Biblioteka fills a gap in the market for unique and creative magazines that you'd struggle to find anywhere else in the city.  It offers some of the most interesting, beautiful, obscure and inspiring publications to fill your bookcases.
Castle House (Kommune) -  shop online at www.labiblioteka.co
Leadmill, The
Established in 1980 the iconic Leadmill is an independent creative hub, home to live music, club events, theatre, comedy, sport and film screenings. You can also shop online for a range of fantastic Leadmill merchandise including limited editions. 
6 Leadmill Road - shop online at www.leadmill.co.uk
Lockwood Florists
Lockwoods Florists are a long established family run business who have been trading from the same location in Sheffield for over 40 years. Delivery and collections are still available.
Surrey Street - shop online at www.lockwoodsflorists.co.uk
LP Record Store
These artisans have over 40 years of experience crafting and repairing bespoke jewellery, with design and trade all taking place in their workshop in the centre of town.
137a Arundel Street - shop online at www.lprecordstoresheffield.co.uk
Michael Spencer Jewellers
These artisans have over 40 years of experience crafting and repairing bespoke jewellery, with design and trade all taking place in their workshop in the centre of town.
Unit 6, Craft Workshops, Orchard Square - shop online at www.michaelspencerjewellers.co.uk
Moonko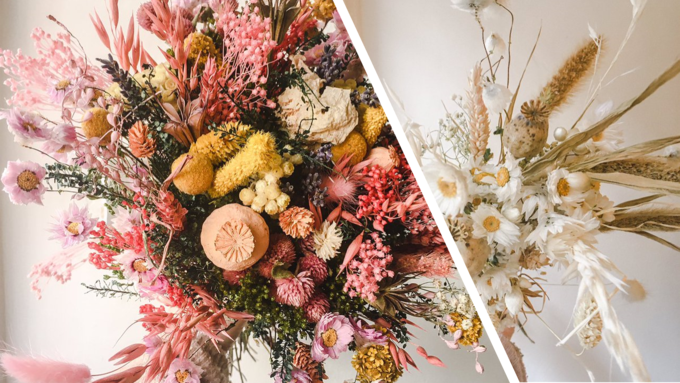 There's something special and charming about Moonko – it has a lovely, relaxed atmosphere and a style all of its own. This award-winning, independent retailer specialises in plants, jewellery and gifts – but there's much more to it if you delve a little deeper. It dries all its own flowers and makes its own flowerpots – in fact, everything it stocks is either made by staff or by its carefully selected bank of designers. Owner Debbie has a clear vision for the store – in terms of both products and its mission. Everything she sells is sustainable and ethical – and Debbie is passionate about giving back to the community, supporting local charities, mentoring aspiring business owners and holding workshops on a host of crafts.
89 Division Street - Tel: 07981 361502. Shop online at www.moonko.co.uk
Moor Market, The
With around 90 independent businesses, Sheffield's Moor Market has the biggest collection of indie retailers under one roof in the region, and it's at the heart of new developments in The Moor shopping district. Shop at independent traders such as Our Cow Molly, Green Leaves, Dearne Farm Foods, Morley's Meats, Bingham & Browne, Beer Central, S&J Pantry, PJ Taste, Smokey Sam's, Moo's Sweets & Chews, News @ The Moor, Waterall Brothers, Smith & Tissington, Turner's Bakers, The Nut Bar, Discount Toilettries, Sew-Rite, Star Toys & Kitchens, Stuart's Fruit & Veg and The Pago Store. 
77 The Moor - www.sheffieldmarkets.com. The Moor Market is open but you can also order online at chefchef.store
Museums Sheffield 
You'll find a great range of prints online from the Museums Sheffield Collection. And ... the shop at the Millennium Galley is reopening Monday, 7 December! There'll be gifts from their amazing 'Handmade for Christmas' makers, prints by local artists, jewellery made in local workshops, homeware, textiles, books and more.
Arundel Street - shop online (for limited prints only) at shop.museums-sheffield.org.uk or visit the Millennium Gallery shop in person.
Music Junkee
Music Junkee is Sheffield's freshest outlet for things musical, from Accordions to Xylophones... and everything in between.
7 Earl Street - shop online at www.musicjunkee.co.uk
Naked Ape
Specialising in quality outdoor wear for climbing, running, skiing, snowboarding and fitness, Naked Ape is also an official stockist of Vibram five finger shoes, Patagonia outdoor clothing, and Carhartt workwear.
190 Norfolk Street. Shop online at www.nakedape.uk.com
National Emergency Services Museum
There are plenty of ways to still support the NESM through its online shop. From toys, games, dress-up, gifts and souvenirs galore!  Find the perfect Christmas gift for the emergency services fan in your life.
The Old Police/Fire Station, West Bar - shop online at visitnesm.org.uk/shop
Natural Bed Company
The Natural Bed Company is a creator of solid wooden beds, futon sofa beds and bedside tables, all expertly crafted from high quality, sustainable materials. It also stocks a range of beautiful home essentials - from luxury towels and candles, to slippers and bedding, they have everything to make life that little bit more comfortable.
123-125 Fitzwilliam Street - shop online at  www.naturalbedcompany.co.uk
Patriot Games
Founded as a market stall in 1994 in Sheffield's Castle Markets Patriot Games has gone on to be a much loved part of the Sheffield gaming community and beyond. It hosts many gaming events and helps run events at places like UK Games Expo. Although currently closed this well known independent is located at 33 King Street whilst seeking a new "forever home". For now you can still shop online for new releases and merchanise with this specialist hobby.
33 King Street - Tel: 0114 273 1762 - shop online at www.patriotgames.ltd.uk | custom printing available at www.custompatriot.co.uk
Plantology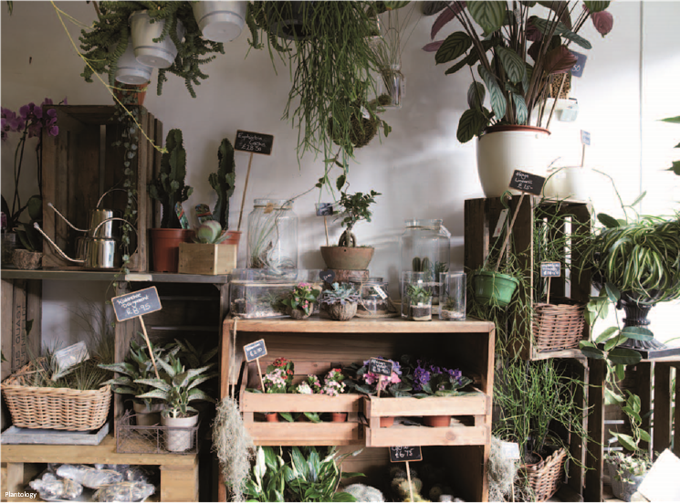 A little oasis in the heart of Sheffield city centre, Plantology has been a big part of Division Street's appeal since they moved here more than 19 years ago. Plantology offers something a little different to your usual high street florist. From gorgeous hand-crafted gift bouquets, beautiful wedding flowers and thoughtful floral tributes, to arrangements for offices, corporate events or photo shoots, you'll always get something unique and memorable. You can order fro the online shop for next day delivery within Sheffield. A click and collect service is also operating. 
70 Division Street - Tel: 0114-270 6779. Shop online at www.plantologyflorist.co.uk
Public
For whisky nerds to our wine geeks, the talented team from the independent bar Public are currently selling some of their fabulous cocktail range online.
Surrey Street - shop online at www.bar-public-sheffield.myshopify.com
Russell's Bicycle Shed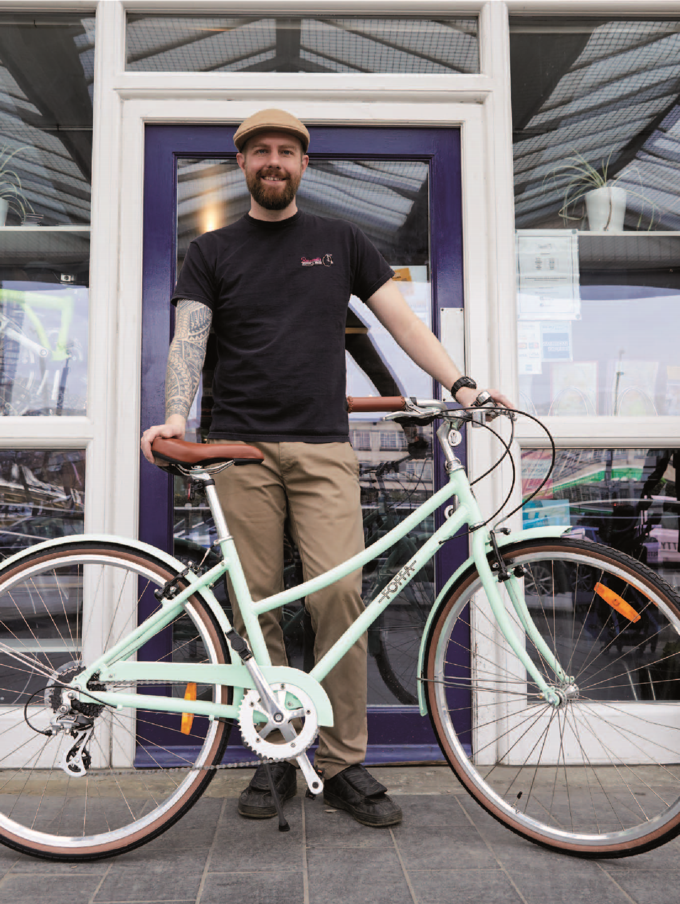 Visitors can explore the city on two wheels as soon as they step off the train in Sheffield, thanks to Russell's Bicycle Shed. The bike shop is based just by the entrance to the station, and as well as selling and servicing bikes it also hires them out at decent day, overnight and week rates. The shop is just next door to the station's Cycle Hub, a secure bicycle lock-up, complete with changing rooms and accessible 24/7 with a key fob, which you can buy from Russell's. During the lockdown Russell's Bicycle Shed remains open on revised trading hours.
Sheffield Railway Station, Sheaf Street - www.russellsbicycleshed.co.uk
S & J's Pantry
S & J's Pantry is run by Susannah and Jonathan Youdan who moved to Sheffield over 17 years ago. They specialise in locally-produced, artisan and fairly-traded produce such as yoghurt, cheeses, preserves and drinks. They also stock traditional baking items and baking ingredients. The Moor Market is open so you can still access S & J Pantry or alternatively buy online from chefchef.store.
The Moor Market, 77 The Moor - shop online at www.chefchef.store
Sa-kis
A menswear shop in Sheffield's Devonshire Quarter, Sa-kis stocks the latest designer menswear garments, from Vivienne Westwood to Edwin, in its wide, multi-railed space. Its collection of streetwear clothing from both well-established and emerging brands makes Sa-kis a place which offers its shoppers original and authentic clothing unlike anything to be found on the high street. With a stock of t-shirts, tracksuits, shoes, jackets, shirts and jeans, there is something for everyone and it is certainly a number one destination among those who have an interest in men's fashion.
32-34 Division Street - Tel: 0114 2787124. Shop online at www.sa-kis.com
Sheffield Lighting Co
The Sheffield Lighting Company is an independently owned business with over thirty years trading experience in decorative and functional lighting.
13 Rockingham Gate - shop online at www.simplicity-lighting.com
Sheffield Makers Shop
The Sheffield Makers Shop is nestled in a corner of Sheffield Winter Gardens in the heart of our city centre. It sells exclusive items by makers and artists living in Sheffield who all work together to make the shop run. Sheffield has a thriving creative scene with many studio spaces, craft fairs and independent creative industries. As more makers have joined the shop it has grown into a vibrant offering of Sheffield's creative talent. Whilst the physical store may be closed, you can still shop online.
The Winter Garden - shop online at www.sheffieldmakerswintergardens.com
Simmonite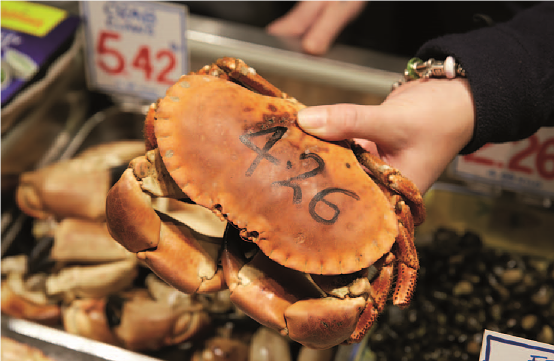 A proper family-run butchers with extensive meat and fish counters, deli and a few extra surprises – while you're picking up some choice cuts for tea, you can grab a few beers from their range of craft ales. Simmonite has been around for more than 70 years – opened first as a market stall in 1946 by owner Carl's grandfather, and it's still very much a family affair. Almost everyone who works at Simmonite is related in some way, and it makes for a really friendly atmosphere. We're really lucky to have had it on Division Street for the last five years – and if you haven't had chance to pop in before, make the extra effort, you'll thank us later. Simmonite's meat and fish are some of the best quality to be found in Sheffield – good value too. During the lockdown the store remains open to customers.
11 Division Street - Tel: 0114 275 4666
Sinclairs
This independent retailer specialises in designer brand clothing, luggage and accessories, and features names such as Hugo Boss, Paul Smith, Michael Kors and Barbour. From hip flasks and Hunter wellies to totes and dog coats, if you're looking for a little slice of luxury then be sure to pay Sinclairs a visit.
266 Glossop Road. Shop online at www.sinclairsonline.co.uk
Slugger Skate Store
The only skate shop in Sheffield – 10 years and still going strong. Pop in for a huge range of boards, clothes, caps and trainers – plus loads of free magazines.
Forum Shops, Devonshire Street - Tel: 0114 2755131. Shop online at www.sluggerskatestore.co.uk
Smoke
Independent restaurant Smoke BBQ has an online store offering its own sauce range, merchandise and gift vouchers.
St Paul's Place - shop online at www.smokebbq.co.uk
Trade2Us
Trade2us enables customers to buy, sell and exchange a wide variety of products in the technology and entertainment arena. It offers a range of services like Buy Backs, Layaways and cash transfer services to name but a few.
33 High Street - online via Trade2Us's Ebay Store - see www.trade2us.com for details.
True North Brew Co
The creators of Sheffield Dry Gin, Sheffield Vodka, and a range of beers, operates 12 venues across Sheffield including The Forum Cafe Bar, The Common Room and The Oldhouse here in Sheffield City Centre. The venues may be closed but you can purchase a fabulous range of gins, spirits, food and gift cards from the online store.
127-129 Devonshire Street - shop online at www.truenorthbrewco.uk/store.
Vulgar
This amazing little store is a feast for the eyes, with interesting pieces of pop culture, stuffed animals and kooky artwork everywhere you look. But its clothes are what people come for. It's all about vintage designer, classic '80s-90s fashion and fun accessories, folky florals and denim, rare one-of-a-kind pattern prints, statement festival pieces and unique reworked fashion – giving vintage fabrics a brand new lease of life. Plus, you might even find the odd Versace, Gabbana, Gucci or Gaultier.
Owner Amber says they have something for customers of all ages, "Sometimes we get three generations of the same family in at once. The daughter shops in Savage Sister, the mum in vulgar, and the granny loves us both."
127-129 Devonshire Street - you can buy a Vulgar gift card online at  www.vulgarsheffield.com
Wildwood Artisan Gifts
Wildwood is an artisan gift and coffee shop that specialises in unique, beautiful things for you and your home. Many of the gifts and homewares cannot be bought anywhere else in Sheffield. Why not check out the website for home delivery or collet in store options.
10-12 Fitzwilliam Gate - shop online at www.wildwood-sheffield.co.uk/shop
Within Reason
Selling everything from candles to jewellery to dresses, this little gem is full to the brim with treasures and trinkets that are certain to catch one's eye. Whether you want to decorate your home or buy a gift for a loved one, Within Reason is the perfect shop for it.
144-146 Devonshire Street - Tel: 0114 249 3346. Shop online at www.withinreason.co.uk
Did we miss anyone ... ?
If you're an independent business based in Sheffield City Centre providing click and collect or an online shopping experience, please get in touch to get your business listed here and involved in our promotional activity courtesy of Sheffield BID. Please contact enquiries@sheffieldbid.com