Local brewery opens new city centre store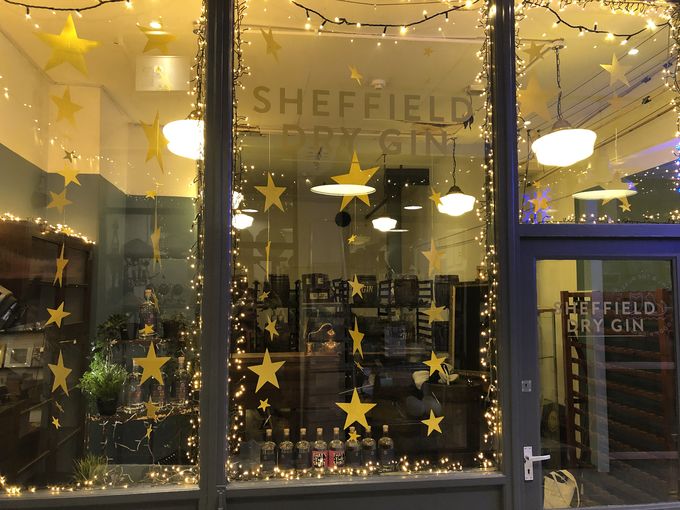 A new shop with a firm focus on local produce has opened in the Forum Shops following the lift of the second national lockdown.
Local brewery, True North Brew Co. has opened a new store on Devonshire Street selling gin, gift sets, kegs of beer and a range of Sheffield merchandise such as The Henderson's Relish Cook Book and Sheffield Honey.
Situated alongside Bear Tree Records, Artcade Gallery, Honky Tonk's Barber Shop and The Owl & The Pussycat Piercing. The Forum Shops has housed unique boutiques and services for over 25 years and True North Brew Co. are excited to be joining as a permanent resident.
For the last four years customers have only been available to buy Sheffield Dry Gin – the first gin to be distilled and bottled in over 100 years - via their online store and pick up from the Forum Kitchen + bar, this was until a second national lockdown hit, forcing pubs and restaurants to close.

True North Brew Co. is a leading independent pub, bar, and restaurant group with 12 venues across South Yorkshire and Derbyshire. Known for delivering excellent eating and drinking experiences as well as producing Sheffield Dry Gin, Leeds Gin, True North Beer, Sheffield Vodka and coffee.

The store opening comes in time for the second national lockdown to be lifted and for Sheffield to enter a strengthened version of tier 3 restrictions, in which all non-essential shops are allowed to reopen.
Speaking on the new developments, True North's Gin Sales Manager, Lucy Allen said "2020 has been a tough year, especially for the hospitality industry and whilst our pubs are shut, we have been working behind the scenes to change the way that we operate.
"We recently turned The Sheffield School of Gin into a Virtual Masterclass that people can experience online with their colleagues, friends and family. Now that the True North store is open, it's another way for our loyal customers to support us and for those that prefer to click and collect, we now have dedicated premises to do so, whilst the restrictions for our pubs mean that they cannot open."
The True North store is located in Unit 17, The Forum, 127 -129 Devonshire Street, Sheffield S3 7SB. Opening times are as follows: Monday– Friday (12pm – 6pm), Saturday (10am - 6pm) and Sunday (11am – 4pm).

Please visit www.truenorthbrewco.uk/store to click and collect.
And here's some great facts about this fantastic local business ...
Sheffield Dry Gin was the first gin to be distilled and bottled in Sheffield in over 100 years by True North Brew Co.
Alongside traditional gin botanicals they use an unusual selection of fennel, cardamom and gentian root that lend the gin its dry, herbaceous character. For balance, a small amount of grapefruit and lemon peel is added. Finally, a touch of Sheffield Honey and a dash of Henderson's Relish are included, bringing more complexity to this unique spirit.
The core range includes; Sheffield Dry Gin Original, Raspberry & Pomegranate, Moorland Berries, Marmalade, and Strawberry and Black Pepper.
Sheffield Dry Gin is sold online (https://www.truenorthbrewco.uk/store) in various bottle sizes and gift sets.
In 1992 Kane Yeardley (MD) bought an old, disused warehouse and turned it into one of Sheffield's most loved venues, The Forum. From there, Forum Café Bars was born and the company has gone from strength to strength.
In January 2016 the company name was changed to True North Brew Co. to fully reflect the diverse nature of all operations.
True North Brew Co. operates 12 venues across Sheffield, Barnsley and Derbyshire and are well known for delivering excellent eating and drinking experiences.
The venue portfolio now includes; Forum Kitchen + Bar, The Old House, The Common Room, Riverside Kelham, The York, The Broadfield, The Waggon & Horses, The British Oak, The Blue Stoops, The Crown & Anchor, The Milton Arms and The Punch Bowl.
The True North Brew Co range of beers was first brewed and developed in 2012.
The range and reputation of the beers haas grown over that time and the core range includes; Polaris (pale ale), Sheffield Pilsner, Blonde (pale ale) and Best Bitter.
In addition to gin and beer the company also produces their own coffee and Sheffield Vodka!
In January 2019 True North Brew Co acquired Leeds Gin. Leeds Gin is a no-nonsense, straight-talking gin. Since acquisition, Leeds Gin has seen a reinvigoration of the brand from ingredients to design, to create a proper premium gin.