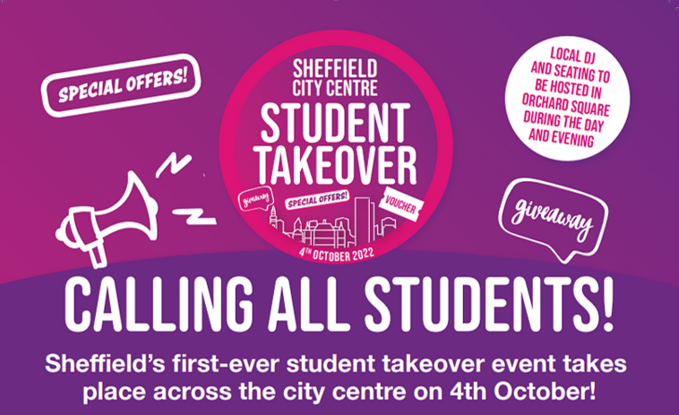 Don't miss out on the first-ever student takeover event taking place across the city centre on Tuesday 4th October to include the following NOT TO BE MISSED offers and giveaways. 
---
Need a hand in finding this year's 'must visit' venues? Have a look at our handy map (link opens in a new window) 
---

📍 Atkinsons, The Moor - 15% discount
📍 Birds Yard, Chapel Walk - Goodie Bag tombola with purchase
📍 Blacks, The Moor - 20% off and a competition to win a holdall
📍 Blue Banana - Orchard Square - 15% off on the day - and every Wednesday
📍 Boots, High St - 3 for 2 across No7; 15% off selected fragrance; 20% off Bobbi Brown; £5 coupon offer on photo and £5 off £20 spend on healthcare
📍 Clarks, The Moor - 20% discount 👠
📍 Decathlon, The Moor - 10% discount & £5 voucher with every £40 spend
📍 The Head of Steam, Norfolk Street - Two Tacos and Two Margaritas for £20 on Taco Tuesday! 🌮 
📍 Hotel Chocolat, Fargate - up to 20% discount
📍 Humpit, Orchard Square - free drink with any hummus or salad bowl
📍 La Coupe, Orchard Square - 15% off cuts
📍 LUSH, Fargate - 30 pamper sets to give away
📍 Mancave, Orchard Square - 20% off
📍 Michael Spencer Jewellers, Orchard Square - 15% off all silver jewellery & 10% off watch batteries
📍 Monki, Pinstone Street - 20% off with an minimum £35 spend
📍 New Look, The Moor - 20% off
📍 Scrivens, Orchard Square - 15% off & student eye test is reduced to £10
📍 Skechers, The Moor - 15% discount on the day
📍 Sheffield City Centre Gift Card, Surrey Street - 🤫
📍 Sheffield Plate, Orchard Square - see venue for lots of food and drink offers!
📍 Simulation Station, Orchard Square - hosting a fastest lap challenge to win a FREE 1 hour session. Plus there's 25% off bookings for students through October using the code "October 25"
📍 Showroom Cinema, Paternoster Row - free film ticket 
📍 Sports Direct, The Moor - 20% off
📍 Subway, Bramall Lane, Haymarket, London Road and The Moor branches - 25% discount on the day
📍 Terrace Goods, Orchard Square - free pizza slice with any drink purchase using code "Student Slice"
📍 The Body Shop, Orchard Square - 20% off plus a freebie with £25 spend
📍 Thrifty Store, King Street - £12 kilo event with 25% off between 12 noon and 6pm
We're adding to these offers all the time, so keep checking back!
---
How do you fancy winning a BEDROOM OF GOODIES?

From bedding to furniture, plant pots to cosmetics - worth £000s - and all supplied by TKMaxx in Orchard Square.

Visit Orchard Square between 12 noon and 7pm on Tuesday 4th October to view the room and enter the draw!
---
Please note: Student ID will be required to redeem offers. Individual retailers' Terms and Conditions apply.
---
Download the Student Takeover flyer Sheffield Student Takeover A4 poster.pdf.
---
Ongoing city centre offers for students  
As well as all the above there are plenty of great offers that are available from a wide variety of city centre businesses. Here are just a few of our favourites 🤓
📍 Iceland, The Moor - save 15% when you shop instore. 1. Download the app 2. Scan your bonus card 3. Show your University or Student Beans ID 4. Fill that freezer! 
📍 ODEON Luxe, Arundel Gate -  Get a free £15 Amazon e-voucher when you sign up to myLIMITLESS with promo code Freshers22. The offer runs until 31st October. 
📍 Paperchase, Fargate - unlock 15% savings. 
📍 True North Brewery - 20% off all day, everyday (at venues including The Common Room and Forum Kitchen & Bar) with a Pledge Student Card. The Pledge card costs just £3 and it entiles a holder to make savings throughout the year!