Win £750 of city centre experiences
…in our super-sized shopping bag raffle.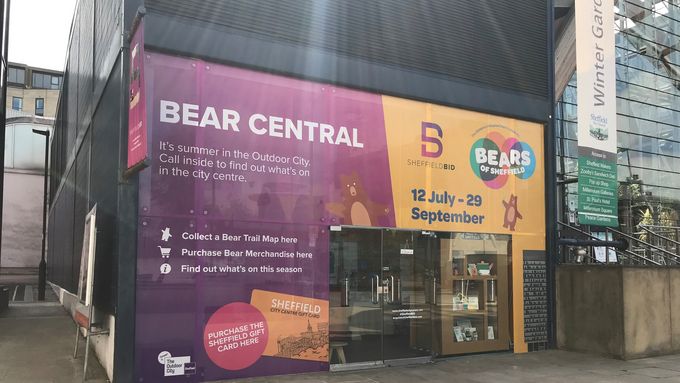 As part of this year's Summer in the Outdoor City celebration, our super-sized giant shopping bag features some sizzling hot experiences from panto tickets to afternoon tea, cocktails and family fun activities.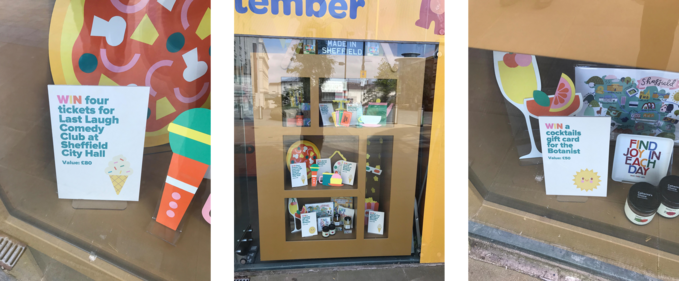 One lucky winner will win the lot! The super-sized shopping bag includes:
Four tickets for panto at the Lyceum: £120

Afternoon Tea for four at Browns: £80

Cocktails gift card at The Botanist: £50

Family Fun gift box at the Light Cinema: £50

Dinner (gift card) at Piccolino: £100

Four tickets for Last Laugh Comedy Club at Sheffield City Hall: £80

Lunch at Ambulo: £50

Products Made in Sheffield: £220

David Mellor child's cutlery-set

Products from Sheffield Makers shop

Beer (from Beer Central)

Sheffield Honey

Birdhouse Teas

Bears of Sheffield merch

And a few other surprise treats!
For a chance to win the contents of the bag worth £750, simply head to Bear Central at Unit 1, Surrey Street (next to the Winter Garden) to get your raffle tickets. Here you can also find out about what is on in Sheffield City Centre this summer, pick up your trail map for The Bears of Sheffield visitor trail, buy official trail merchandise as well as the Sheffield City Centre Gift Card!
Terms and conditions
The raffle is open to members of the public aged 18 years and over (excluding employees (or their family members)) of Sheffield City Centre BID Ltd.

Raffle tickets can be purchased from Bear Central, Unit 1, Surrey Street (next to the Winter Garden) from 10am on 12 July until 4pm 29 September 2021.

Raffle tickets cost £2.00 per ticket. 

The draw will take place at 10am on Monday, 4 October 2021.

The prize cannot be exchanged for the cash equivalent or for an alternative prize.

The draw will determine the winner of the prize, chosen at random. The winner of the raffle will be notified within seven days of the draw date in writing or by telephone. A second prize of a £200 Sheffield Gift Card and a third prize of a £100 Sheffield Gift Card will also be drawn.

Subject to eligibility and compliance with all applicable terms and conditions, the first ticket drawn at random will win the full contents in the shopping bag.

Sheffield BID reserves the right to alter, amend or otherwise change the terms of the raffle without prior notification.
This raffle is an incidental lottery – run by Sheffield City Centre BID Limited (Sheffield BID) – and complies with the guidelines set out by the Gambling Commission. All proceeds raised by the raffle will be reinvested in city centre improvements by Sheffield BID (a not-for-profit organisation, registered in England & Wales 9601967 and limited by guarantee).