Festive travel, parking and mobility

However you want to travel there's plenty of low-cost options for all modes of transport this festive season. Plan ahead with some great promotions.
Information updated on 30 November 2021.
---
Car parking
If you are using the car to visit the city centre in the run up to Christmas, then there are a number of options open to you. You can use the ever handy Parkopedia website, but we also want to help by highlighting some of the options open to you and signposting some special deals that are available over the coming weeks.
Sheffield City Council operate a number of car parks in the city centre as well as providing on-street parking. On-street parking charges are in operation between 08:00 and 20:30 Monday to Saturday, but there is a special evening rate (from 16:30 to 20:30) of £2 and a special flat rate on Sundays of £2 for the day.
Whilst parking machines continue to accept cash, you can also use chip and pin or go contactless. You can also PayByPhone, which provides a convenient way to pay for your parking.
---
APCOA Parking
APCOA operate three sites in and around the city centre.
This includes the 433-space facility at Atkinsons, Sheffield's independent department store on The Moor. The car park is open from 06:00 – 01:00 from Monday through to Saturday and 08:30–00:30 on Sundays.
Amongst the options for car park customers, the site offers an evening rate of just £0.50 per hour after 16:00 and an 'early bird' rate of £7 for all day parking (on entry before 09:30). And, if you are coming into the city centre on a Sunday, then you can take advantage of car parking from just £0.50 per hour.
With APCOA Connect, customers can pay for their parking by credit or debit card securely via mobile phone.
---
Bank Park
Since opening their first car park in Sheffield in 2013, Bank Park now operate over 30 car parks across Sheffield. Their 'Park & Give' scheme means that every car parked in a Bank Park car park contributes to local good causes.
Bank Park's Pennine Five Car Park, formerly the home of HSBC on Silver Street Head, provides a number of options including all day parking for £5.
---
Britannia Parking
Britannia Parking recently acquired the 668 space Arundel Gate car park. The site offers parking for £4.50 for two hours or £7.50 for all-day parking. The all-day parking price can be reduced to just £4.50 by using the special code 'XMAS21'.
To access parking at the reduced rate simply visit britannia-parking.co.uk, enter the entry and exit dates required and add the promotional code (XMAS21) into the 'Enter promotion code' field.
An overview of the parking session will appear for confirmation along with the discounted rate. Simply follow the prompts to complete payment.
---
Euro Car Parks
Euro Car Parks' uncovered 91 space site on Matilda Street provides convenient access to a number of city centre destinations, including The Moor. This car park is also open 24 hours a day, seven days a week.
---
NCP
With around 2,500 spaces across seven NCP car parks in and around the city centre, NCP provide a number of options for visitors to the city centre.
NCP provide a 'pre-book' option at most of their Sheffield car parks. Simply select arrival and leaving dates and times to book a space online and this allows you to reserve a parking space and to save money when compared to paying for parking on the day.
NCP's ParkPass App is their newest parking product, designed to make parking quick and easy. Parking is paid for automatically on exit, so there's no need to visit the pay machine for a ticket or to display a ticket in your car.
NCP is offering parking for two hours for £2.50 and for up to 24 hours for £6.45 – when using the SaverID SHEFFXMAS – in conjunction with NCP's ParkPass App. These tariffs are available at all NCP sites in Sheffield through to 31 January 2022, so you can make even more of the city centre and the January sales when the time comes. Visit the NCP website for information on how to use ParkPass Saver ID.
---
Q-Park
There are over 3,200 car parking spaces across the six Q-Park sites in and around Sheffield city centre.
Q-Park provide a number of deals to help shoppers and those visiting the city centre in the evening. They also partner with Sheffield Hospitals Charity to provide customers with 10% off pre-booked parking when using the code 'SHC10'.
Finally, when you choose to pre-book your parking and combine it with the Q-Park Rewards App, you can unlock 10% cashback.
---
Public transport
Choosing to use the bus, tram or train can be a quick and convenient way to get into the city centre this festive season.
Plan ahead, check the latest guidance on travelling safely at this time and use Travel South Yorkshire to find the right service and the best ticket for your journey.
Planning ahead also means there may be a 'better' time to undertake your journey using public transport, particularly if you would like to travel at a quieter time. Think about your journey and consider when is the best time to travel?
Local bus operators, such as First and Stagecoach, have added capacity checkers to their apps so you can track where your bus is and see how many seats are available on your next service.
If you are planning on using your car to visit the city centre, have you considered incorporating public transport as part of your journey? There are eight Park and Ride sites outside Sheffield city centre that offer a convenient way to combine your car and public transport to travel into the city centre. Better still, you can take advantage of FREE PARKING at Park & Ride sites in Sheffield on Boxing Day and New Year's Day - just pay for the cost of travel on the tram.
Plan your festive travel
Bus, tram and train services will be running differently over Christmas and New Year. You can check a summary of services by day from Monday 20 December to Tuesday 4 January on Travel South Yorkshire's dedicated Christmas page. And you will be able to download Christmas timetable guides on their Christmas page from Friday 10 December.
Save on your public transport travel
There are often special deals on tickets that can help reduce the price you pay for using the bus, tram or train. We will be highlighting some of our favourites over the coming weeks, that can help you save as you travel this festive season.
If you are aged under 22, you can save money on your bus, tram and train travel right across South Yorkshire with a Zoom Travel Pass. Holders of a valid Zoom Travel Pass can travel anytime, anywhere in South Yorkshire for just 80p on bus or tram. And those aged under 19 can also travel for half fare on Northern trains in South Yorkshire. You can find out all about Zoom Travel Passes on the Travel South Yorkshire website.
TravelMaster provide a wide range of tickets that you can use across a wide range of public transport operators. Their CityBus and CityWide tickets enable straightforward, cost-effective travel across bus or bus and tram services respectively.
If you are travelling in a larger group then the 5 for a Fiver ticket from Stagecoach Bus can be a great option for saving on travel. The 5 for a Fiver ticket allows travel for between 2 and 5 people after 5pm on a Friday, all day Saturdays, Sundays and Bank Holidays on any Stagecoach bus in South Yorkshire.
Cycling
There are a variety of cycling routes in and around the city centre and some really useful maps and tools are available on Sheffield City Council's website to help you plan your next trip on two wheels.
You can also find details on city centre bicycle parking facilities and where you can access the city's network of free to use bike pumps.
---
Walking
Choosing to walk more of our trips can be a great way to get around the city centre, whether it is to explore previously unvisited areas or just to get from A to B.
Did you know that Sheffield has been voted the second most walkable city in the UK?
---
Mobile Sheffield
Sheffield BID has recently reintroduced the mobility scheme Mobile Sheffield service to the city centre. 
Mobile Sheffield provides pavement mobility scooters, manual wheelchairs and tri walkers for short-term hire and use in Sheffield city centre. Whatever your age or walking ability, the service provides a range of reliable products to ensure people with walking difficulties or disabilities can access shops and local amenities in the city centre.

No blue badge is needed. Equipment can be hired by anyone with mobility issues, whether due to age, disability or injury. Hire services are managed by Sheffield BID's Welcome Team, who can also provide a meet and greet service at the Q-Park car park on Charles Street or the Arundel Gate Interchange if required. 
Find out all about the service on the Mobile Sheffield website. 

---
We can't wait to see you!
Read our full festive guide to what's on this Chrismas in Sheffield city centre - here you'll find crafts, fairs, markets, pantos, films, theatre, shopping and more!
Check out the magical festive events for all the family. Full details of the main festive events can be found here.
Download our festive flyer here SheffieldCityCentre_Christmas2021.pdf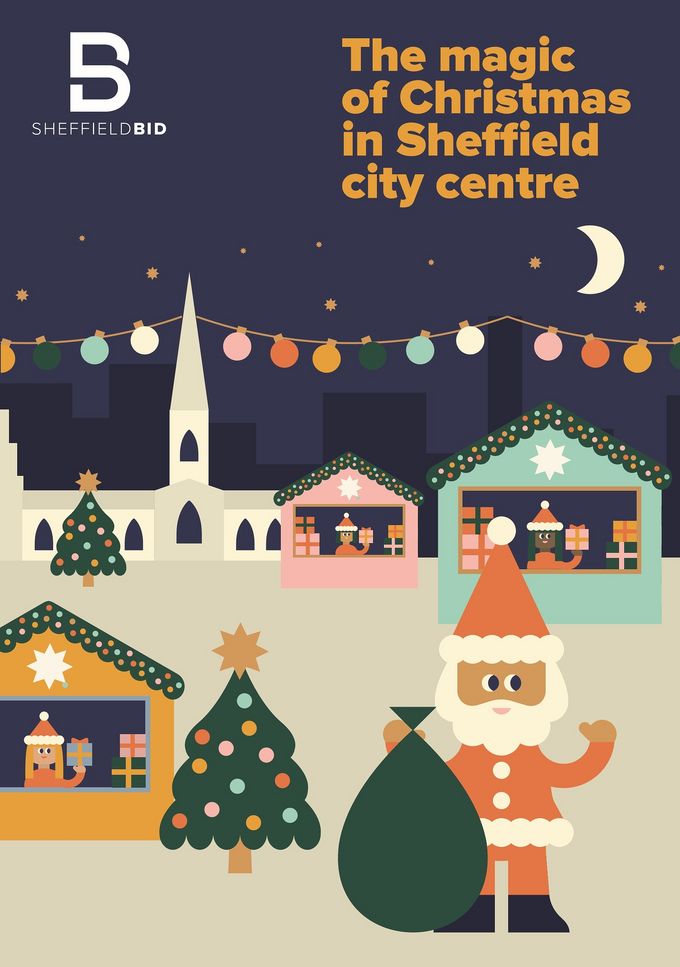 ---