Discover Sheffield's expanding LGBTQ+ scene
As we write this piece, it's Pride Month, a celebration of LGBTQ+ communities and remembers the (ongoing) struggles fought by that community for their rights.
To mark this important time, Sheffield BID spoke to some of the people working tirelessly behind the scenes of the city's LGBTQ+ scene.
And we're also taking the opportunity to highlight some of the different summer events, activities and places that are key to raising awareness at this important time.
Please note: All information correct at the time of writing.
Now, and in no particular order, let's go 🏳️‍🌈
---
🏳️‍🌈 Sheffield Pinknic 🏳️‍🌈
📅  Saturday 16 July
🕘 11am-7pm
 📍 Peace Gardens
🕸️ https://www.facebook.com/pinknicsheffield
'It means a hell of a lot to people', said Kath Housley, summing up the impact of Pinknic.
Sheffield city centre's flagship LGBTQ+ event, Sheffield Pinknic, returns this July and after a record year in 2022, organisers are hoping their tenth year will be even more of a success.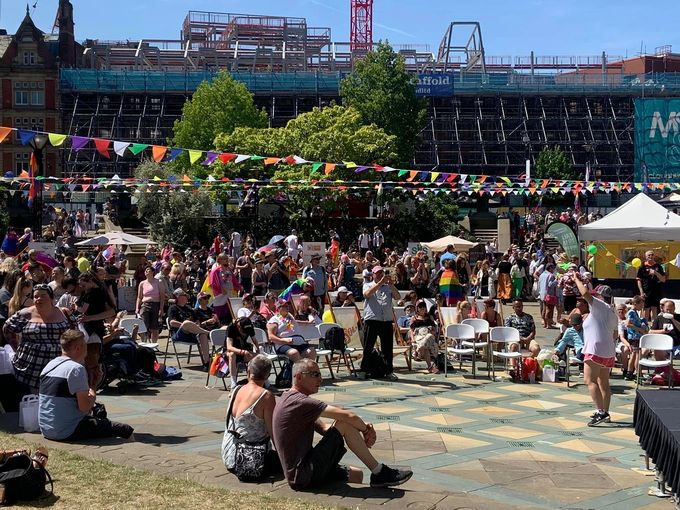 Now in its tenth year, Sheffield Pinknic is an annual, free and family-friendly event organised by the committee of LGBT Sheffield.
While last year's event attracted some 6,500 people in their 'best ever' year, it hasn't always been plain sailing.
Kath, the chairperson of LGBT Sheffield, said: "The first one was at Weston Park which was difficult because of the horrible weather - there were gazebos flying everywhere!
"Later we moved to the Peace Gardens and it went well, the weather was much better and we started to get a lot more footfall.
"It's a good venue to have it because you get people coming in who aren't part of the community, and they can come and learn more about it and the struggles we've had, that we still have.
Pinknic, which like many other Pride-linked events nationally is held in July, will this year feature a live stage plus DJs and be hosted by Sheffield drag compere Electric Blue.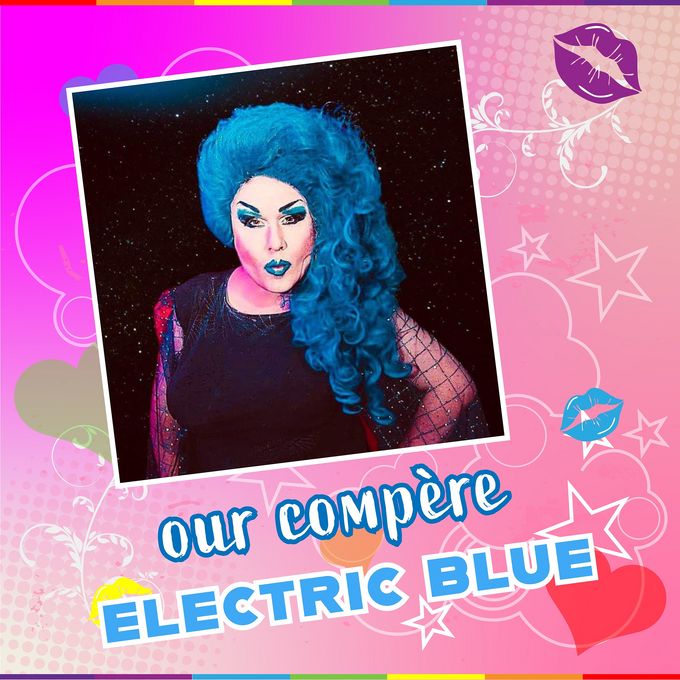 City musicians Adam Heyes and Stevie Moore - plus his mum Patricia - will be performing for the crowds. There are drag acts, dancers, plenty of stalls to browse and a free after party too!
The latter will also be held in the city centre, at Revolucion de Cuba on West Street. It is being hosted by Sheffield drag artist Emma Maezin, who also starred in Sheffield's Eurovision party back in May.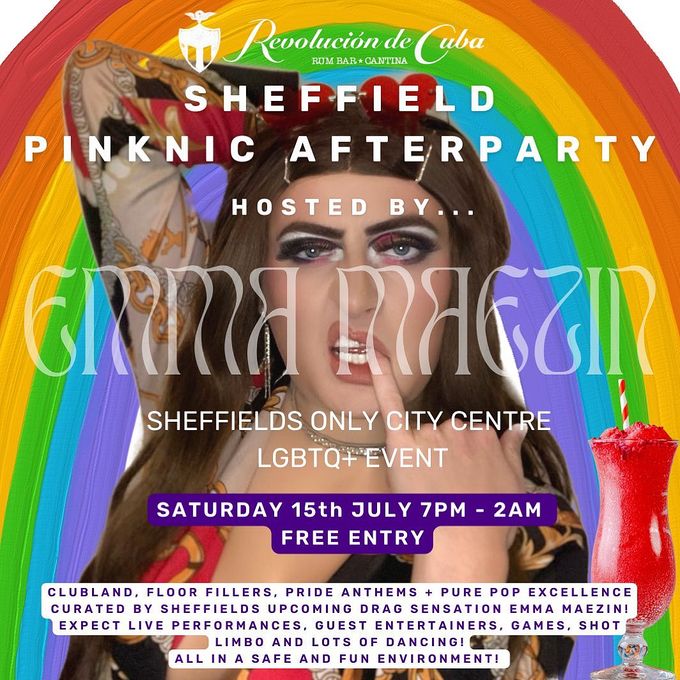 Kath added: "Pinknic means a hell of a lot to people. There's no other major LGBTQ+ inclusive event in Sheffield city centre, this is their space and they can be who they are."
---
🏳️‍🌈 A Maezin Pride 🏳️‍🌈
📅 Friday 30 June
🕘 Doors 8:30pm | Show 9pm - Midnight
🎟️ Advanced tickets - available online - £6 + fees. On the night tickets - £10.
📍 The Vault (The Yorkshireman), 10 Arundel Gate
🕸️ A Maezin Pride - A Camp Celebration of Pride (facebook.com)
Celebrate Pride season with your favourite local drag queens Emma Maezin, Ditzy O'Darlin, D'rama Qween and pride circuit extraordinaire Smashby. Featuring 'drag queens, live vocals, comedy, and camp show shenanigans'.

🏳️‍🌈 And don't forget to look out for A Maezin Pride events at The Vault (The Yorkshireman) in August, October and December 2023 🏳️‍🌈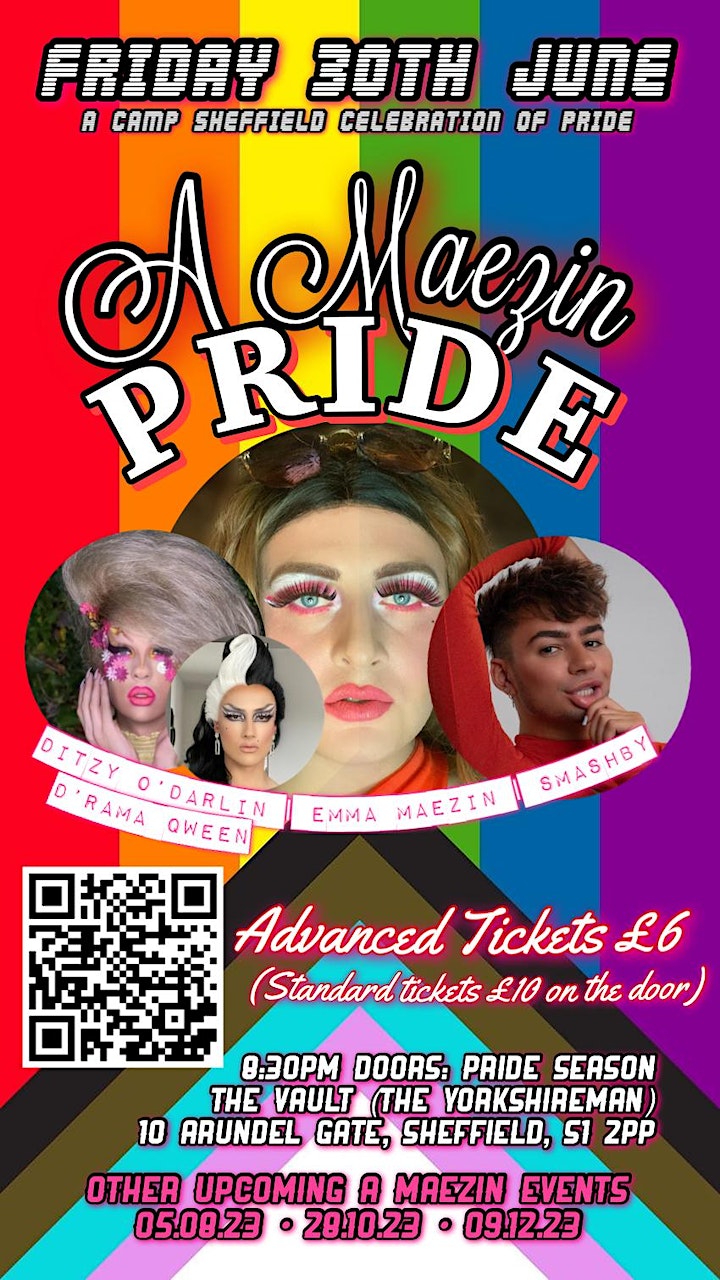 ---
🏳️‍🌈 Quacks queer comedy night and Queer Diary 🏳️‍🌈
📅 Wednesday 21 June and Thursday 29 June
🕘 7:30pm-10:30pm
📍 DINA, 12 Fitzalan Square
🕸️ HOME | DINA (dinavenue.com)
Sheffield city centre arts venue DINA hosts many events for the LGBTQ+ community. They include popular Queer Writes sessions, an opportunity for collaborative writing.
In June the packed 'what's on' calendar at DINA includes Quacks, a queer comedy open mic night which is inclusive and beginner-friendly on 21 June. Better, still, it's 'pay what you feel'. Check out the Queer Comedy Open Mic Sheffield facebook page for more info 👍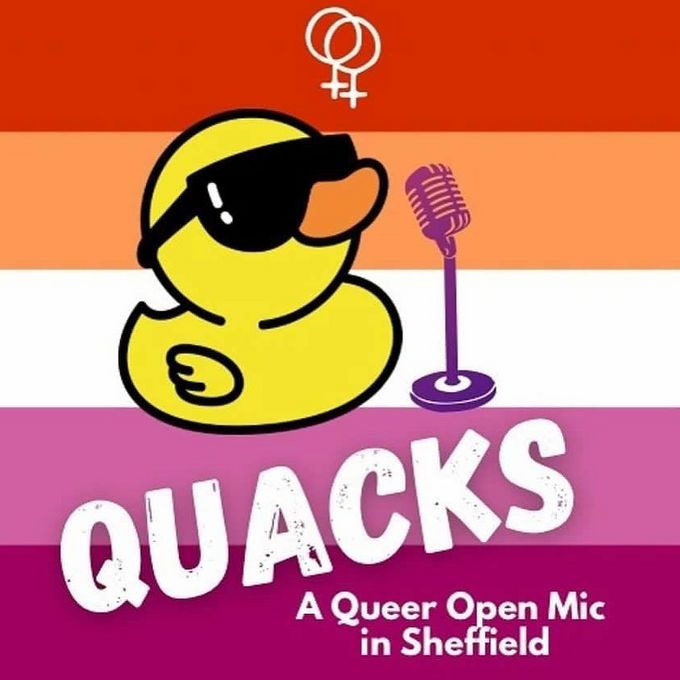 If telling jokes to a crowd feels too easy, there's also Queer Diary on 29 June. 
Brave participants will read their teenage diaries - with all their angst, joy, dreams, crushes and more - to a room full of people. It's a way to come together against societal expectations, and also to get the adrenaline pumping.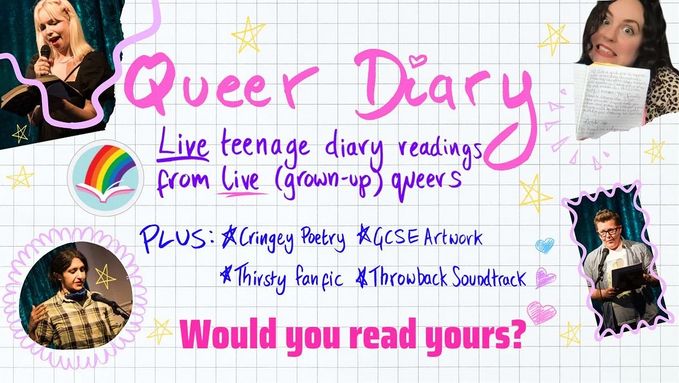 ---
🏳️‍🌈 A chance to back the city centre's latest queer venue 🏳️‍🌈
🕸️ https://www.gofundme.com/f/gut-level-new-space-fundraiser 🕸️
Not-for-profit members club and event space Gut Level announced this month that plans have been approved for its new home. A former cafe on Chapel Walk will now become a community space, bar and venue.
It will help Gut Level continue its work providing social and creative opportunities for underrepresented groups, particularly LGBTQ+ people and marginalised genders.
But fundraising is needed to make the space safe and fit for purpose, and a crowdfunding campaign has been launched to help raise £50,000.
Gut Level won a Sheffield Business Award for its cultural impact and its new space would provide a permanent base, as well as creating an exciting development in the heart of the city centre.
All donations are welcomed.
---
🎞️ Lotus Sports Club screening + panel discussion 🎞️
📅 Wednesday 21 June
🕘 6pm
📍 Showroom Cinema, Paternoster Row
🕸️ Migration Matters: Queer East presents Lotus Sports Club + Panel Discussion - Showroom Workstation - Sheffield
An inspirational coming-of-age documentary, Lotus Sports club focuses on the story of teenage trans man Leak.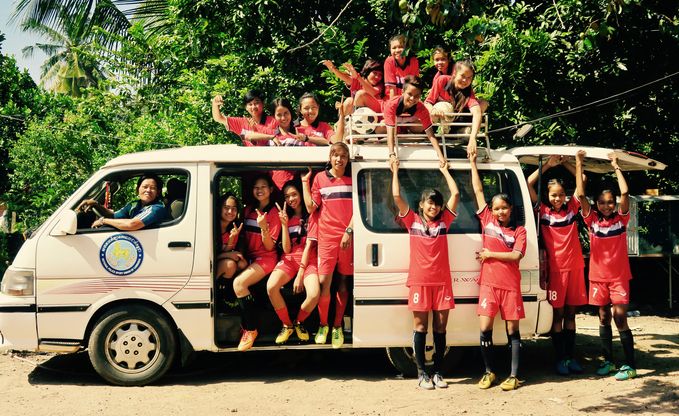 He plays football in the under-21s women's team of Kampong Chhnang, helped by coach Pa Vann and other LGBTQ+ players on the team.
Pa Vann established the football team to encourage solidarity and also opened his home to more vulnerable or homeless teenagers, including Leak.
But Leak faces pressure to leave him behind as he makes the heart-breaking decision to move away, and is forced off the football team.
This screening is presented by Queer East and is part of Migration Matters Festival, with an in-panel discussion held afterwards. All tickets are £5.
---
🏳️‍🌈 Educate yourself with Andro & Eve, or boost their next extravaganza 🏳️‍🌈
Since 2016, Sheffield's Andro & Eve has been celebrating queer culture.
Now a social enterprise, it is known for delivering impactful gender awareness training and empowering, accessible live events.
Last year Andro & Eve held the 'Reyt Queer Extravaganza' featuring more than 40 artists, from rappers to dancers, at The Leadmill.
In June their next Kingdom Come event will help raise money for future events, including a similar scale celebration.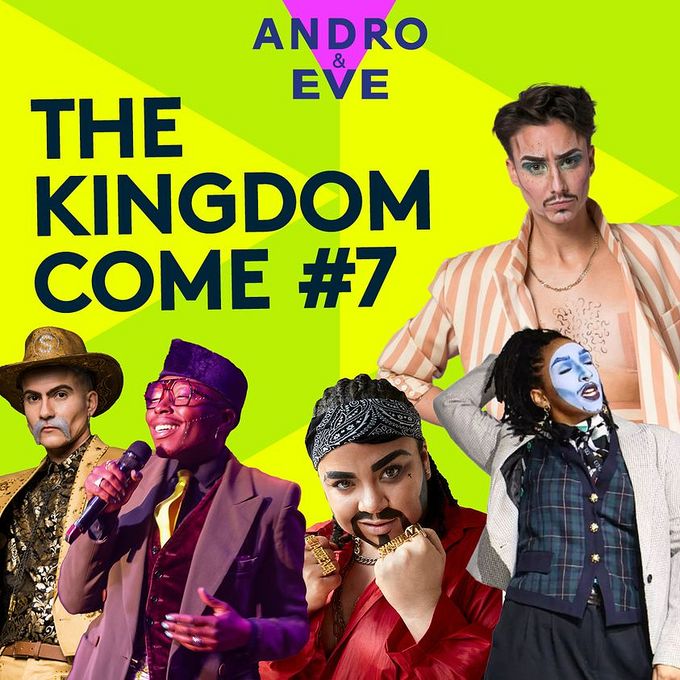 Finn Warman, CEO and artistic director, said this June had been the 'busiest ever' but more needed to be done to continue improving Sheffield's LGBTQ+ scene.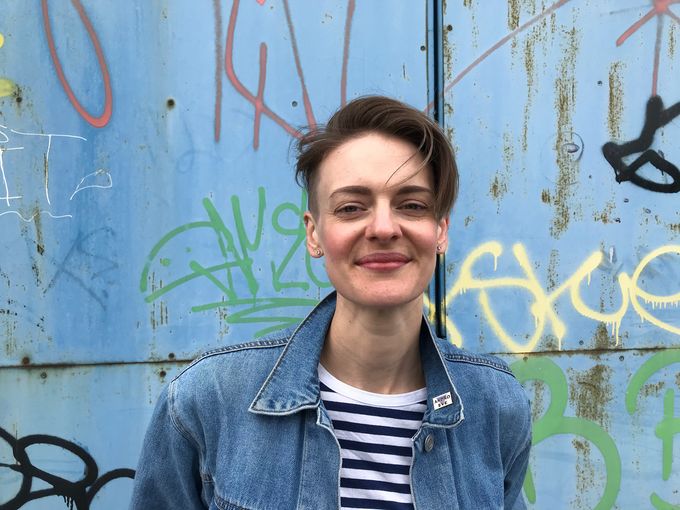 They added: "I'd definitely say that Sheffield has started to feel like there's more queer stuff happening and events for LGBTQ+ people but you still have to be really in the know to know it is happening.
"There's lots happening but it is all community or volunteer led.
"We're already a marginalised community, facing a more right wing rhetoric, and this does have an effect on people's mental health."
Andro & Eve, which has a base in the city centre, will bring drag kings from across the UK to Sheffield for Kingdom Come, Pride is a Protest edition on 29 June.
The team has also organised a now sold-out queer dance workshop at The Montgomery theatre earlier in the month.
Finn added: "It's nice to do something in Pride month where people can come together. "Kingdom Come is our signature event, where we get drag kings from right across the UK to come to Sheffield and perform for the community."
Kingdom Come is accessible to all people, from allies to people on different stages of their journey.
For the first time, those aged 16-18 will be able to attend the event iwith a parent or carer.
Gender awareness training by Andro & Eve has been taken up by businesses across many different sectors across the north, and Sheffield city centre businesses can enquire via the website: Gender Awareness Training – Andro & Eve (androandeve.com). 
---
🌈 Rainbow Gamers 🌈
📅 Sunday 25 June
🕘 6pm-10pm
📍 Treehouse Board Game Cafe, 41 Boston Street
🕸️ Rainbow Gamers — The Treehouse (treehousesheffield.com)
Dice at the ready 🎲
Sheffield's only board game cafe lies just on the boundary with the city centre - and has a dedicated evening for LGBTQ+ gamers.
The Treehouse hosts its 'fabulously friendly' social for the community on the last Sunday of each month and it is becoming increasingly popular.
It's next up on Sunday 25 June and tickets cost £6 for up to four hours of fun, a low stress way to meet new people and try out games.
An LGBTQ+ member of the team will be on hand to help, the venue is fully accessible and there is a gender neutral toilet.
Please note the event is not open to those under 18.

---
🏳️‍🌈 Be a better LGBTQ+ ally 🏳️‍🌈
📅 Wednesday 21 June
🕘 1pm-2:30pm
📍 Online
🕸️ Pride Month event: Ways to be a better LGBTQ+ ally (sayit.org.uk)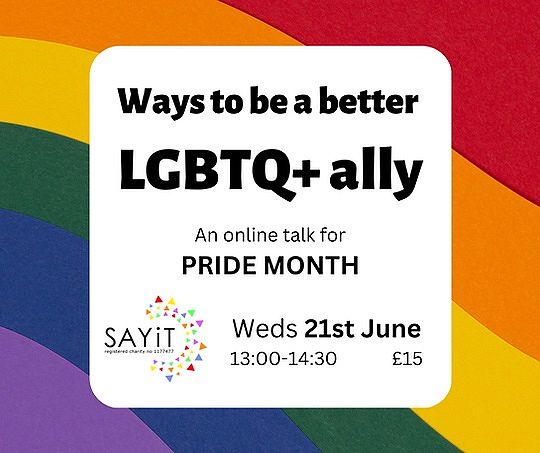 Online event from SAYit, based at Star House, Division Street
Want to discover how you, and your organisation, can be a better ally during Pride Month?
Sheffield's SAYit charity, which transforms the lives of young LGBTQ+ people through a range of services, can help.
The charity is hosting an online talk covering how to make workplaces more inclusive, language and terminology plus what being an active ally looks like. It will also discuss how to recognise and challenge prejudice.
Tickets for this online event cost £15 and SAYit also hosts regular awareness training courses.
---
🍹 Raise a toast to Pride Month - and raise money - with the Frog & Parrot 🍹
📅 Throughout June
🕘 6pm-10pm
📍 Frog & Parrot, 94 Division Street
🕸️ Switchboard LGBT+ Helpline
Known for its music offer and people-watching, The Frog and Parrot pub is a long-established part of Sheffield city centre's pub scene. For Pride Month the team has created a new cocktail, called Mango Disco 🍹
It's a sweet treat in a glass which also raises cash for LGBT+ helpline Switchboard, with 10p from every cocktail sold donated to the cause.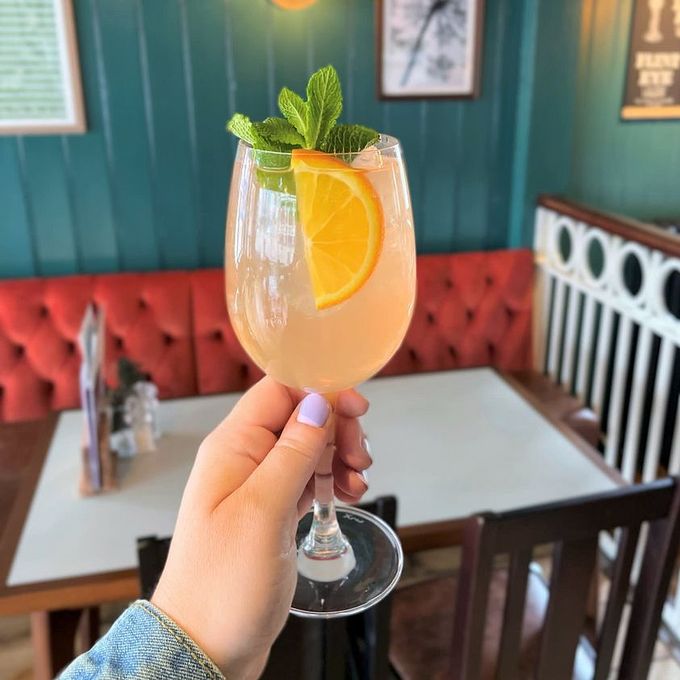 ---
🏳️‍🌈 Visit an iconic Sheffield venue 🏳️‍🌈
📅 Drinks offers every Tuesday, Friday/Saturday late nights until 6am
📍 Dempseys, Hereford Street
🕸️ Facebook
One of the oldest nightclubs in the city centre and also the longest surviving LGBTQ+ venue in Sheffield, Dempseys needs no introduction.
It's THE place in Sheffield city centre to go for a big night out, with the two-storey venue open until 6am on Fridays and Saturdays,
While the venue isn't hosting any Pride Month events this year, it hosts drinks offers every Tuesday!
---
👑 Support Ask for Clive with an All Bar One Absolut Queen 👑
From 28 June until early September, there's a new LGBTQ+ inspired cocktail on the catwalk...the Absolut Queen 👑 

In every sip, you'll get notes of Absolut Citron vodka, Cointreau, cranberry juice, sugar & lime…Oh, and a generous garnish of equality!
For every Absolut Queen bought during this time, All Bar One will donate 50p to Ask for Clive, a charity that fights against LGBTQ+ discrimination in the community, working to make entertainment venues safer, more welcoming spaces for all.
Find out everything you need to know about All Bar One's Absolut Queen here: Pride (allbarone.co.uk)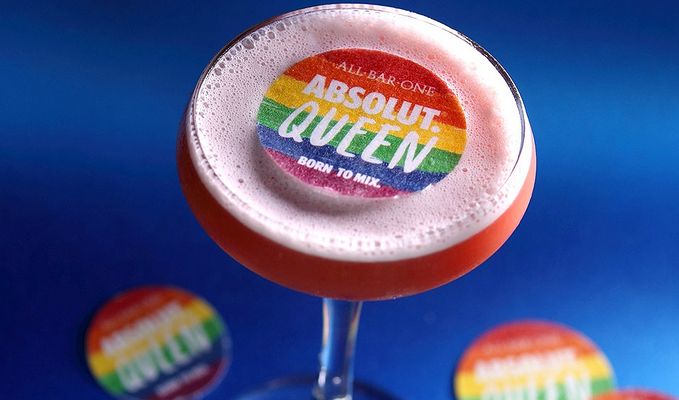 ---