City centre cafe culture ☕
---
"In Sheffield city centre there are fewer independent cafes than other cities, but they are of a much higher standard."
Sam Gilmer, Coffee at Mow's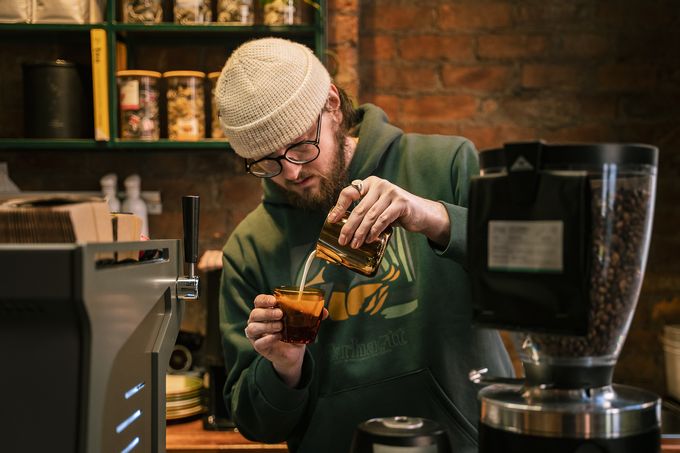 ---
Something for everyone
❗ Article updated on Monday 13 November 2023 ❗
A host of independent coffee shops have set up their home in Sheffield city centre alongside trusty, familiar high street names, alongside some places that we like to call, 'honourable mentions'. Between them they offer something for everyone.
You're spoilt for choice, so get out there – Sheffield's vibrant cafe culture has to be tasted to be fully appreciated.
Read on and allow us to introduce you to what the city centre has to offer.
Saluti ☕
PS If you just want to see where they all are, why not have a look at our handy map 🗺️
---
📍 Inside Sheffield Cathedral, Church Street
Welcome to 1554 Coffee Shop where they have been serving up the finest heavenly coffee, good food and always offering a warm welcome since first opening their doors in 2015. 
Centrally located in the stunning surroundings of Sheffield Cathedral, 1554 is the perfect escape for those who want coffee, cake, lunch or just a quiet place to meet with friends...or all of these things. 
---
☕ Albie's ☕
Slightly tucked away from the city centre bustle, Albie's is the perfect place for a catch-up with friends over lunch.
Brother and sister team Robyn and Fraser opened this thriving, ever-popular cafe in 2018 and their aim has remained the same - to create community and inclusivity through their passion for coffee, food and service.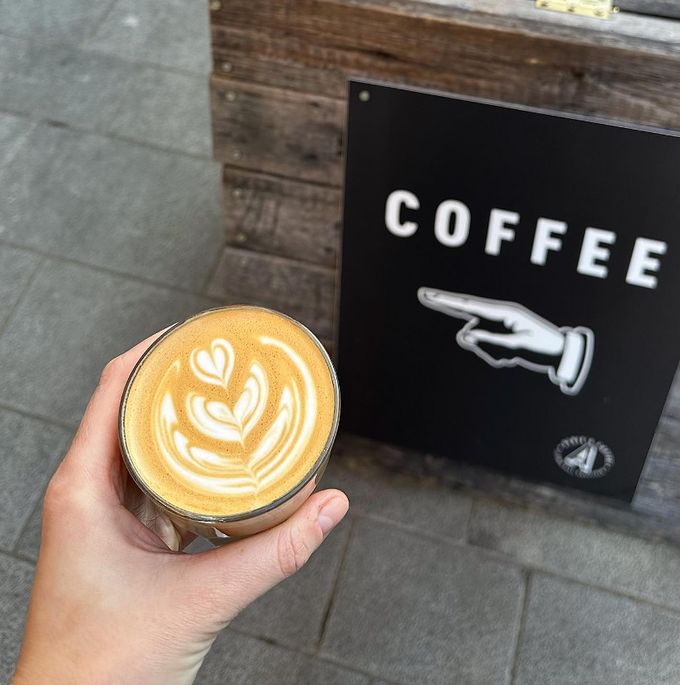 ---
☕ Ambulo ☕
📍 48 Arundel Gate, inside Millennium Gallery
Ambulo is an all day café for all the family, inspired by travel, culture and the best produce from near and far.
The Millennium Gallery site is the perfect light and bright spot for business meetings, large gatherings and studying students as well as all the visitors to the gallery itself with it's rolling program of fantastic art exhibitions from renowned local and national artists. 

Committed to using local produce such as Darkwoods Coffee and Our Cow Molly ice cream, Ambulo is the place to take some time out in the very heart of the city centre.
🖱️ Ambulo | All Day Café | Millennium Gallery | Weston Park | Sheffield | South Yorkshire (weareambulo.com)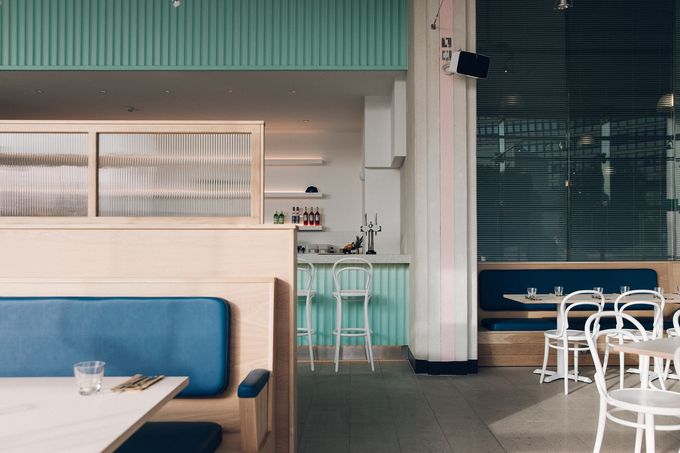 ---
☕ Birdhouse Tea Bar & Kitchen ☕
The welcoming Birdhouse Tea Bar & Kitchen is light and airy, with plenty of seating across two levels and its outdoor courtyard. Whether you're popping in for a quick cuppa or staying longer to indulge in the extensive menu, the Birdhouse emphasis is on enjoying a healthy dining and drinking experience.
Birdhouse have taken their artisan blend teas and used them to create tea-infused culinary dishes, iced teas and tea cocktails. The menu features classic brunch dishes, buddha bowls, sharing deli boards and a scrumptious selection of pastries, cakes and desserts.
Birdhouse Tea Bar & Kitchen is located in the heart of Sheffield's Cultural Industrial Quarter, around five minutes walk from the train station.
---
☕ Builder's Brew Cafe ☕
📍 East Parade 📍
Imagine a cafe where you get to play with LEGO® while you enjoy a drink and a bite to eat…that's the Builder's Brew Cafe! 
So, what makes the Builder's Brew Cafe just that little bit different?
Book - reserve a table online (website link below ☟)
Build - choose a set or create your own masterpiece 🧱
Brew - enjoy a drink and a bite to eat ☕
🖱️ Builder's Brew Cafe (buildersbrewcafe.com)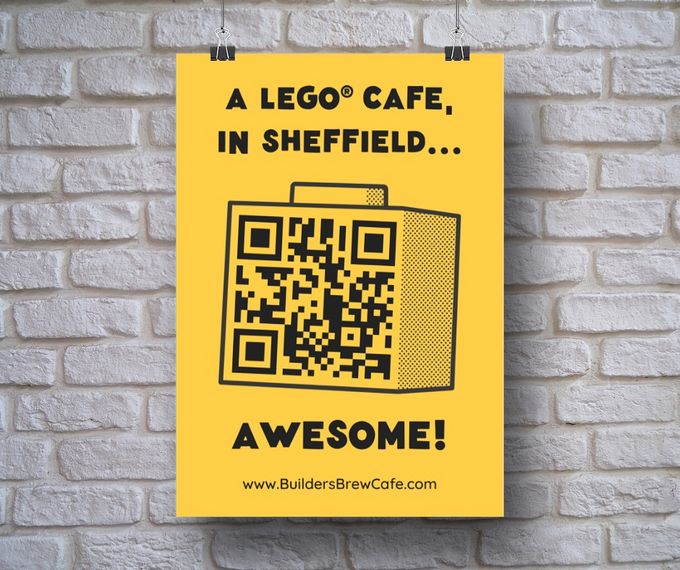 ---
☕ The Cabin ☕
A firm favourite for those who like to indulge in pancakes, waffles and coffee.
The Cabin made the epic move three doors down in the summer of 2022 to their new premises on Fitzwilliam Street. They continue to serve up their famous waffles and pancake stacks (check out their Instagram to see them for yourself) alongside an ever great cup of coffee. 
With sweet and savoury options on the menu, they cater to all, and the cosy, Canadian-inspired decor which features a
gallery and gift shop makes it the perfect spot to spend time with friends.
💡 Don't forget to check out sister-company Wildwood Artisan Gifts whilst you're visiting The Cabin. You'll find Wildwood conveniently located upstairs.  
🖱️ The Cabin | pancake, waffle and coffee house, artisan gifts and gallery (thecabin-sheffield.co.uk)
---
☕ Caffe Massarella ☕
📍 78-82 The Moor, inside Atkinsons
This chic caffe on the ground floor of Atkinsons, the city centre's independent department store, boasts a large outside seating area and is the ideal place for a cappuccino, panini or one of their fabulous cakes. 
🖱️ Caffe Massarella - (moorsheffield.com)
---
☕ Caffe Tucci ☕
Caffe Tucci has quickly become a very popular place to visit and watch the world go by since brothers Stefano and Salvatore opened their doors in January 2022.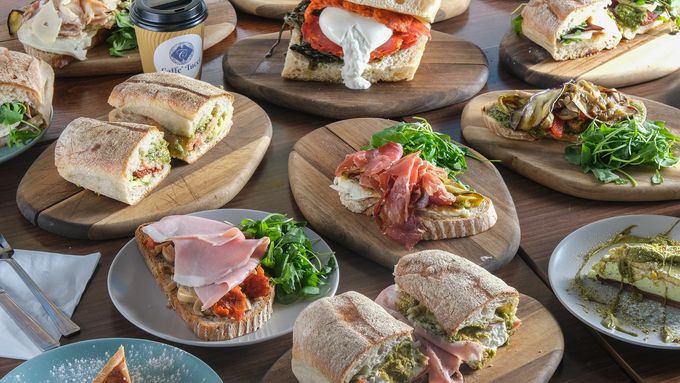 If you're after some super tasty 'Neapolitan-inspired fare', then this friendly, family-run café is bringing the true taste of Naples to Sheffield city centre.
🖱️ @caffe_tucci_sheffield • Instagram photos and videos
---
☕ CAWA Coffee ☕
The city-centre outpost for Broomhill coffee shop and bakery CAWA. Expect fresh baguettes, cronuts and deli sandwiches alongside speciality coffees.
💡 'Cawa' is the original word for coffee in Turkish/Arabic. Today, it's a loose term referring to 'a place to enjoy a hot drink, great food, and socialise'.
🖱️ CAWA Coffee
---
☕ The Chakra Lounge ☕
A welcoming spot on Fitzalan Square, the Chakra Lounge is an Indian-British cafe with a big heart.
It not only serves a distinctive range of breakfast, lunches and drinks, it also has a social mission, running payit-forward and charitable schemes. Drink options include rose and cardamom milkshake, masala chai mojito, and bulletproof coffee (coffee with butter and coconut oil).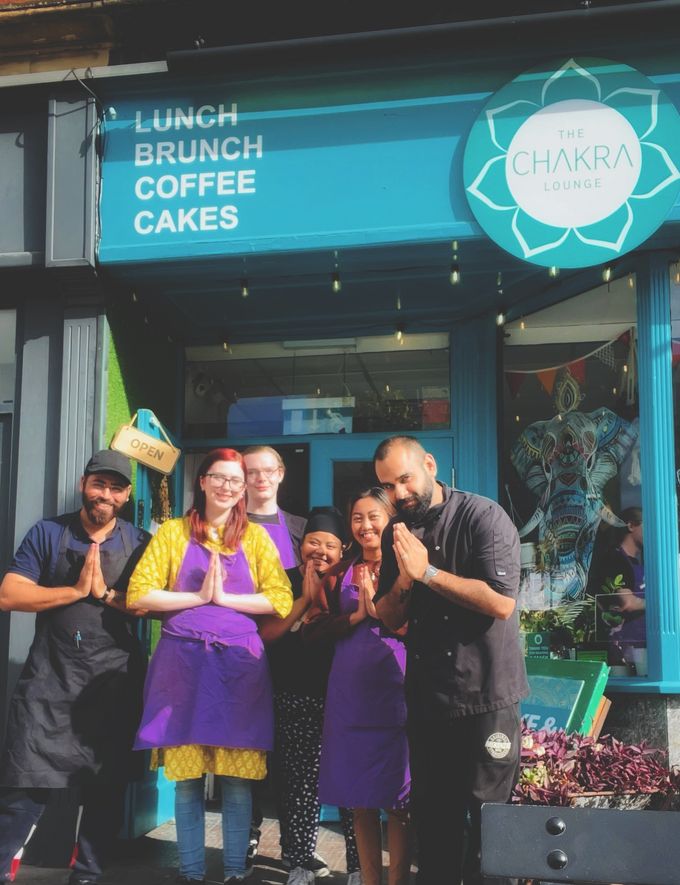 💡 The majority of its menu is veggie or vegan. Highlights include breakfast wraps made with Indian flatbread, bhel puri, a brightly coloured vegan burger, and channa chaat salad.
🖱️ Indian Takeaway Buxton | Indian Takeaway Sheffield | Indian Takeaway Bakewell (thechakralounge.co.uk)
---
☕ Copper Pot ☕
Copper Pot is located on the ever-popular Division Street, home to some of the city centre's most famous and iconic hospitality venues. As with a number of venues on Division Street, Copper Pot benefits from an outdoor seating area for customers. 
💡 Students get 10% discount when visiting this lovely cafe. 
🖱️ Copper Pot - Sheffield - Coffee, Salad, Sandwiches (copperpotcafe.com)
---
☕ Couch ☕
Situated in one of Sheffield's most vibrant areas, Couch is great for breakfast or lunch thanks to its range of hearty meals and delicious drinks. 
🖱️ Couch Campo Lane - Sheffield (@couch_sheffield) • Instagram photos and videos
---
☕ Crucible Kitchen ☕
📍 The Crucible Theatre, Norfolk Street
Crucible Kitchen, located in the bottom foyer of The Crucible Theatre, opened at the beginning of September 2022.
It serves coffee by Sheffield's premium roaster Cafeology, light and delicious lunches plus cakes by local suppliers.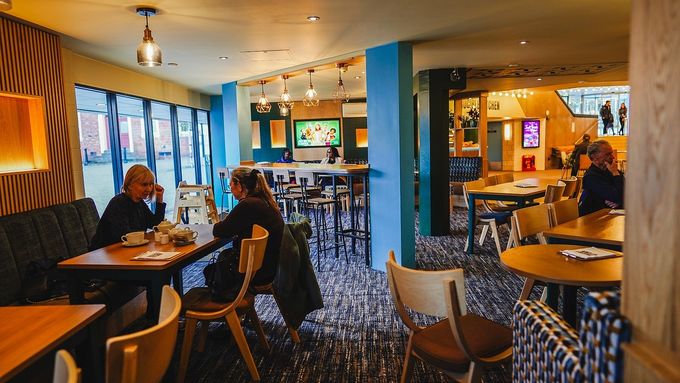 With several high-profile theatre shows and the 2023 Cazoo World Snooker Championships set to begin this month, the people-watching opportunities at Crucible Kitchen are unmatched!
💡 Crucible Kitchen is only open to visitors for the World Snooker Championships between Saturday 16th April and Monday 1st May 2023. 
🖱️ Crucible Kitchen | Sheffield Theatres
---
☕ Extra Life Gaming Lounge ☕
A family-friendly cafe with a big difference.
Enjoy freshly ground coffee, a refreshing smoothie or an ice-cold ice cream milkshake, all while playing video games 🕹️
🖱️ Extra Life Gaming Lounge - Cafe, Video Games, Cafe, Coffee
---
☕ Gaard 2 Coffee Hide ☕
Gaard is a dog-friendly vegan cafe. It brews up delicious Foundation Coffee and loose leaf Suki teas, and stocks a great range of sandwiches and pastries.
💡 You don't need to be vegan to love Gaard 💖
🖱️ (1) Gaard Coffee Hide | Sheffield | Facebook
---
☕ Grão Brazil Cafe ☕
Grão Brazil Cafe, located at Pounds Park, is one of the newest additions to Sheffield city centre's thriving cafe culture scene. Enjoy their lovely coffee with a deliciious Brazilian snack including Chicken Coxinhas, Beef Coxinhas, Kibbeh, Brazilian Cheese Bread and much more 🇧🇷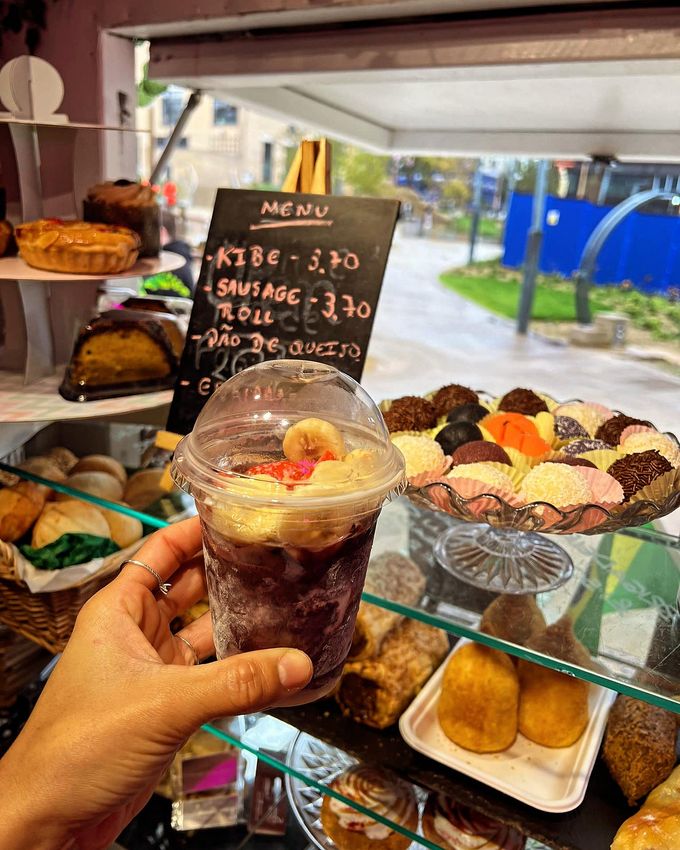 🖱️ (2) Facebook
---
☕ Honey & Fig Sheffield ☕
Honey & Fig is a lovely little coffee shop, offering a warm atmosphere, lovely cofee and always friendly staff.
💡 Since leaving their temporary home in the shipping containers on Fargate, Korean street food specialists Clapping Seoul have been doing pop-ups at Union St and Honey & Fig.
🖱️ Honey & Fig Sheffield | Sheffield | Facebook
---
☕ HowSt Café ☕
HowSt's modern and stylish interior combined with its nourishing meals and creamy coffee make it the perfect choice for breakfast, brunch or lunch.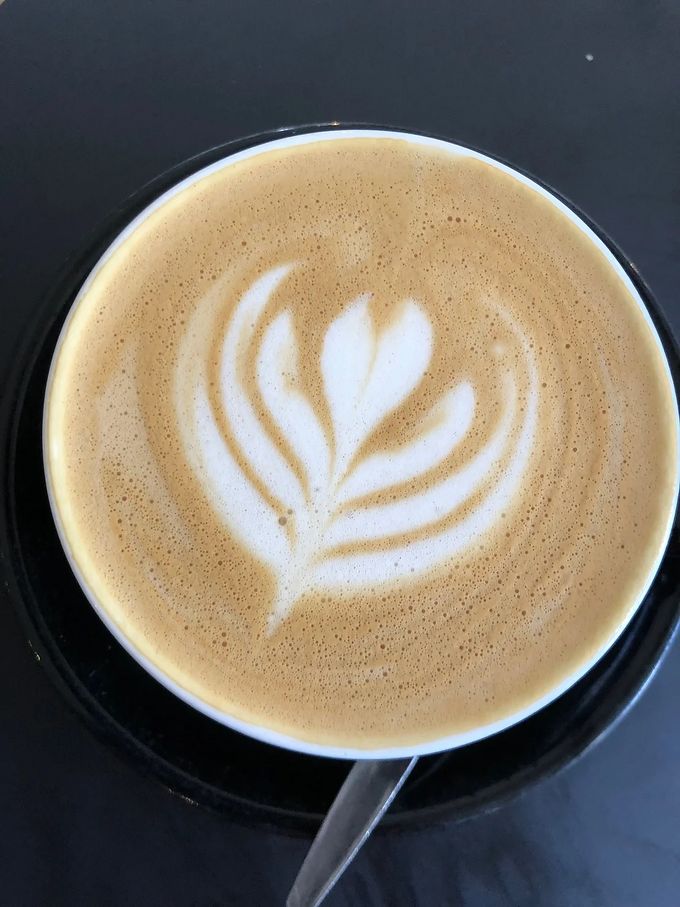 ---
☕ Hygge ☕
For people specifically looking for a coffee spot to co-work in the city centre, Hygge in Fitzalan Square or in their second site in Wizu Workspace on Eyre Street, are definitely a 'go to' place.
Hanging bubble chairs and grassed areas bring a fun modern vibe while their speciality coffee provides that vital energy boost.
💡 Hygge often run workday deals, such as a coffee and a pastry for £4.50. 
🖱️ Hygge Cafe (hyggecafes.com)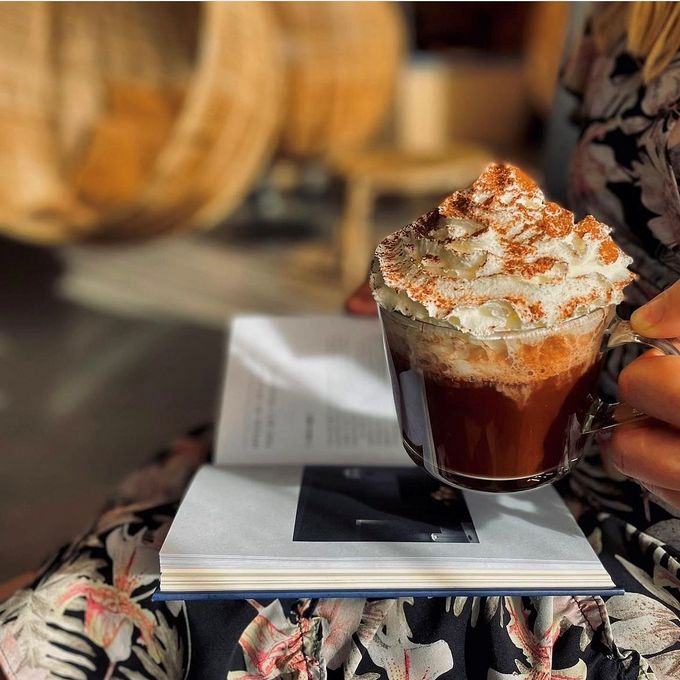 ---
☕ Kollective Coffee and Kitchen ☕
Kollective's fresh food and cake has a great reputation, and it's a funky place to experiment with a matcha latte or nitro cold brew.
Whatever the order, the cafe's base at Site Gallery means customers can easily combine art with a quality cortado ☕
🖱️ Kollective Coffee And Kitchen Sheffield | England | Kollective Kitchen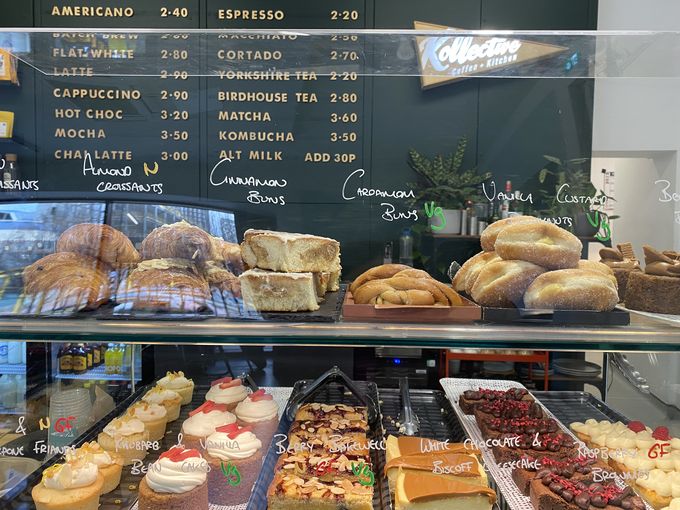 ---
☕ Le Blé ☕
One name, two different meanings. Μπλε (meaning blue in Greek), is a tribute to the colour of the Mediterranean sea, where the founders of Le Blé come from. It also means wheat in French, one of the most basic ingredients for many of Le Blé's products.
Le Blé is not just another bakery. Le Blé is a journey to Mediterranean tastes and the art of coffee. An experience full of freshly-baked goods, made with the authentic Mediterranean recipes. 
💡 The Le Blé Members Club offers an automatic 15% discount for all students and NHS workers - Loyalty Club - Le Ble Limited. 
🖱️ Le Ble-Mediterranean Bakery-Patisserie - Le Ble Limited
---
☕ Marmadukes ☕
📍 22 Norfolk Row 📍 42 Cambridge Street
Nestled in the heart of the city, close to the Crucible, Lyceum and Playhouse theatres, the original Marmadukes on Norfolk Row makes the perfect lunch location. Be sure to take in the beautiful rustic interior while enjoying their delicious deli sandwiches and salads, rich coffee and cakes.
Marmadukes' second city centre location, on Cambridge Street, offers all the superb drinks and dishes people have come to love from Marmadukes, but in the more airy and modern setting of the Heart of the City development.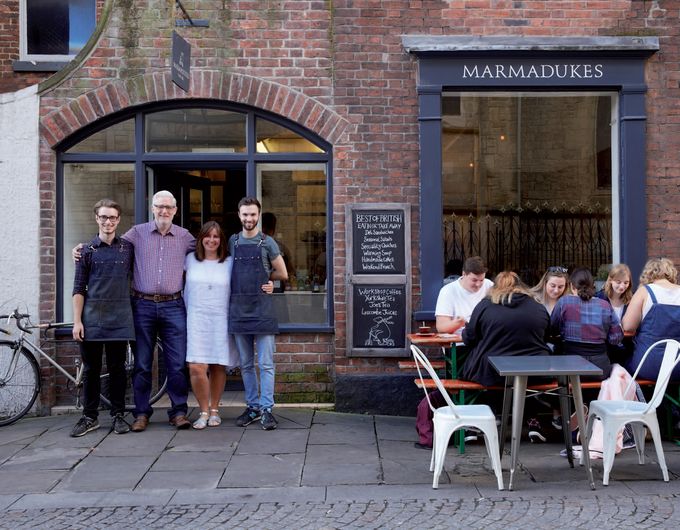 ---
☕ Moor Cafe ☕
A friendly, traditional cafe, tucked away just off The Moor.
It serves breakfast rolls, full English, omelettes and more, all at great value. And, of course, a warming drop of joe ☕
---
📍 Sheffield Plate, Orchard Square
Motore Cafe have been serving the good people of Sheffield for over a decade from their mobile, pop-up coffee unit. 
September 2023 saw the opening of a new concession at Sheffield Plate in Orchard Square, bringing more of their delicious coffee to the masses ☕
If the weather takes a turn for the worse, the pop-up cafe can be moved inside to keep customers dry whilst they wait for their freshly made brew.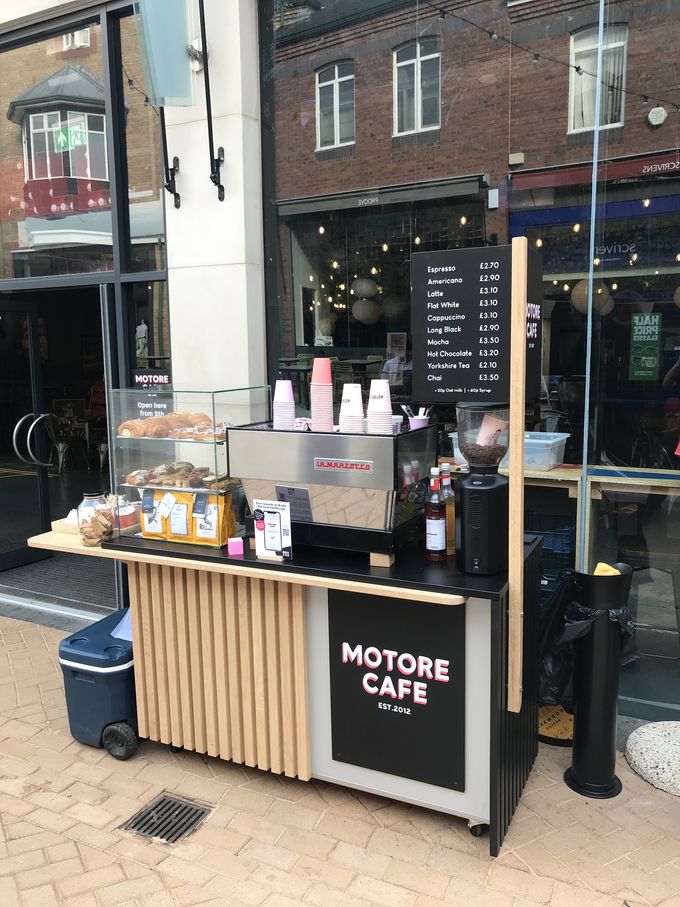 ---
📍 At the front of Laundry for Hair at Sellers Wheel, 151 Arundel Street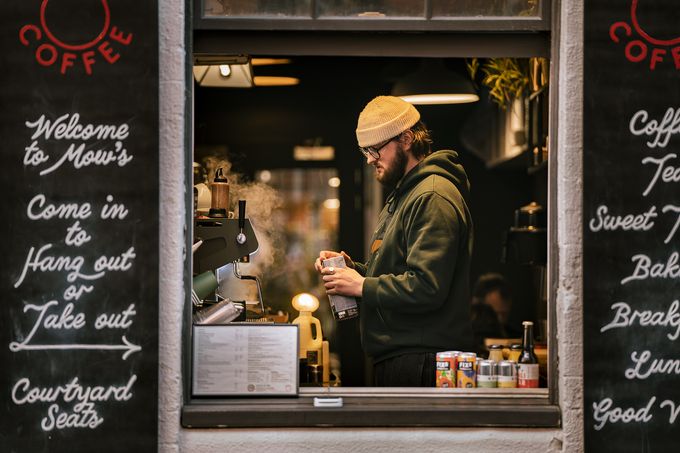 The laid-back hangout opened in September 2020 and became known for serving takeaway coffee through a hatch which was part of the historic Sellers Wheel building.
Despite the hatch's fame on Instagram, Mow's also has an indoor seating area, and sells cakes and bites to eat.
The coffee (including house blend by Darkwoods of Yorkshire) takes centre stage and means Mow's is recommended by many coffee buffs.
💡 All Laundry for Hair clients receive a complimentary hot drink on the day of their appointment.
🖱️ The Mowbray Cafe - Coffee, Hot & Cold Drinks, Cakes & Bakes
---
☕ South Street Kitchen ☕
If a stunning view with your frothy latte is desired, the sustainability focused South Street Kitchen located at the Brutalist icon Park Hill flats delivers the goods. The large open windows and outdoor seating provide an inspirational vista, especially at sunset.
From those windows you can see the heart of Sheffield city centre whilst you sip on your delicious hand-crafted brew. 
---
☕ Steam Yard ☕
📍 1-2 Aberdeen Court, 97 Division Street
Located on one of Sheffield's most adored and liveliest streets, Steam Yard (which first opened their doors in 2014) has a cool atmosphere and a great outdoor seating area. It's regarded as one of the best beverage places in town thanks to the high quality of its coffees and the scrumptiousness of its baked goods.
💡 No trip to Steam Yard would be complete without also popping into Doughboy next door to pick up one of their tasty bakes.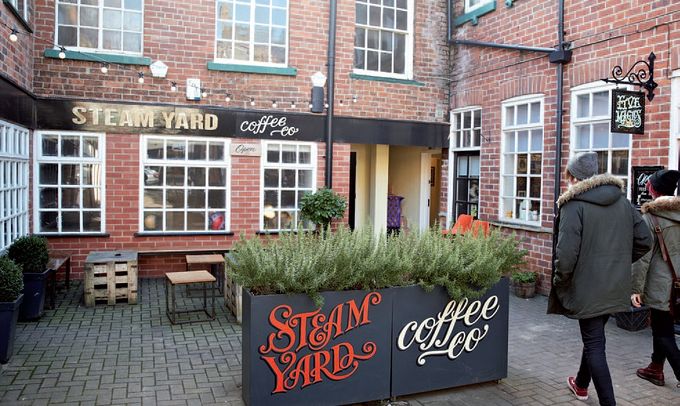 ---
☕ Tamper ☕
Just a few steps away from Mow's on Arundel Street, is grandaddy of the scene Tamper, one of the best-known cafes in Sheffield.
New Zealand inspired and famed for its insanely good brunch menu, the house coffee is tailored to a Tamper recipe, with beans roasted by Kiwi brand Ozone.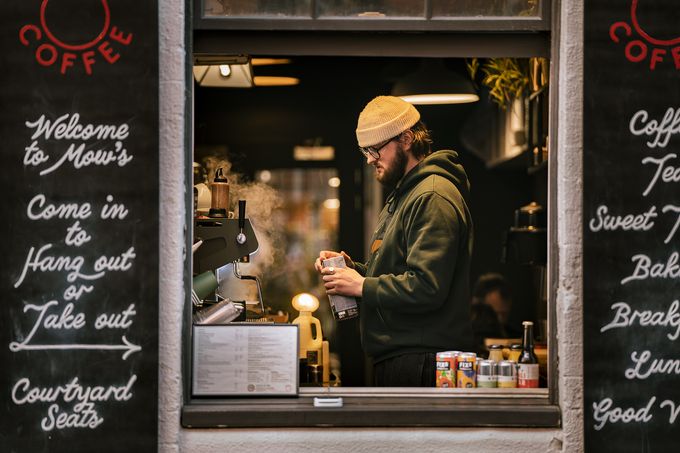 🖱️ Tamper Coffee Company | Kiwi Coffee Culture Sheffield
---
☕ Union St ☕
Union St provides four floors of independent workspace 'chock-full of co-op spirit.'
Their ground-floor café is the beating heart of Union St and every Tuesday, Wednesday and Thursday they serve up some of the best street food the city has to offer.
💡 Union St is also home to The School for Pop-Ups, Union Street's in-house charity supporting Sheffield's street food startup scene.
🖱️ Coworking Space Sheffield | Union St | United Kingdom (union-st.org)
---
☕ Urban Deli ☕
Discover a place where everything is locally sourced, from food and drinks, to the artwork on the walls.
Positioned on the corner of a street lined with tasty traders is this gorgeous independent eatery. Build your own sandwiches or salads and pair it with a smooth coffee or refreshing cold drink.
🖱️ Urban Deli - Deli, Takeaway & Catering in Sheffield
---
Whilst Sheffield city centre is fast becoming known for it's flourishing independent coffee scene, you're never too far from a high street favourite ☕
---
☕ 200 Degrees ☕
One of 19 coffee shops in the 200 Degrees shops chain across the UK, the Divison Street site offers a comfortable, almost vintage feel experience, with bags of personality. It's a place where coffee lovers can drink 200 Degrees coffee in its natural environment, served by their team of highly skilled baristas.
💡 Bag yourself a free coffee with the 200 Degrees App, available on the App Store and Google Play.
Earn a stamp for every drink bought in store, once you've collected nine stamps you can claim a free drink ☕
Get personalised offers and services. You also get a free drink when you register ☕
Add an (optional) payment card 💳
🖱️ 200 Degrees Coffee Shop: Division Street, Sheffield (200degs.com)
---
☕ Costa Coffee ☕
📍 43-51 The Moor, inside NEXT  📍 65-67 The Moor 📍 Orchard Square 📍 85-87 Pinstone Street 
Costa has 50 years' experience of crafting the finest quality coffee. From revolutionary methods and commitment to quality to unforgettable successes that have made Costa Coffee the Nation's Favourite coffee shop.
💡 Buy eight drinks and get one free thanks to the Costa Club ☕
🖱️ The Nation's Favourite Coffee Shop | Costa Coffee
---
☕ Caffe Nero ☕
📍 11-17 Division Street 📍 High Street 📍 Central Kiosk, The Moor 📍 St Paul's
Since 1997, Caffe Nero has grown from a small, independent provider to now operate more than 800 coffee houses across Europe. 
💡 Earn rewards for exclusive treats with the Caffè Nero app, the quickest route to your morning coffee! Link your debit or credit card for secure and speedy payment, enjoy watching your stamps build on your digital loyalty card, plus earn exclusive rewards along the way. Pay securely • Collect stamps • Earn rewards
🖱️ Caffè Nero UK: Award Winning Italian Coffee (caffenero.com)
---
☕ Greggs ☕
📍 21 Market Place 📍 6 Fargate 📍 95 Pinstone Street 📍 61 The Moor
There are over 2,000 Greggs stores across the UK. Over the years Greggs have opened more and more shops across the nation, and have become somewhat of a 'Nation's sweetheart' in communities far and wide.
💡 Snap up free Greggs and enjoy tasty rewards with the Greggs app. When you scan, skip the queue with Click + Collect, find your nearest shop fast and get a free hot drink of your choice when you download ☕
🖱️ Greggs
---
☕ Starbucks ☕
The first Starbucks opened in 1971 and they now have more than 32,000 stores in 80 countries. Starbucks is the premier roaster and retailer of specialty coffee in the world.
💡 Skip the queues and sip the rewards with the Starbucks app ☕
🖱️ Starbucks
---
These may not fit neatly into our little list, but they're definitely worth a special mention and perhaps a visit on your next trip to the city centre 🧐
---
☕ Curzon ☕
Screening award-winning, contemporary and classic independent cinema, Curzon's programme is as unique as the Grade II listed building that it calls home. With a range of affordable prices, events and film clubs, as well as it's lovely waiting lounge, Curzon Sheffield is a hidden gem in the city centre that's well worth checking out 💎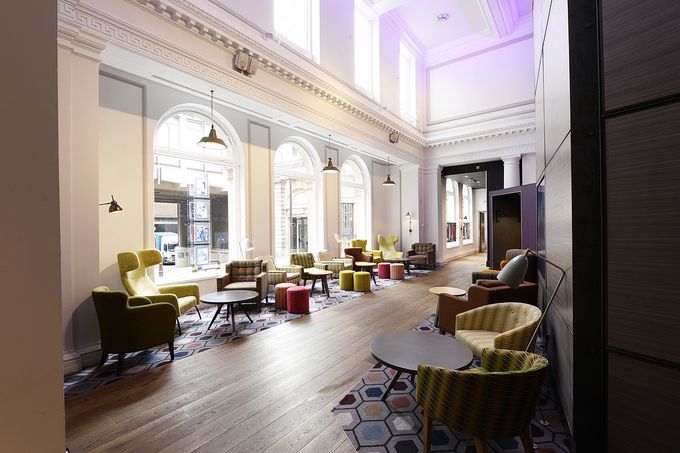 💡 Curzon Sheffield was previously the home of the Sheffield Banking Company 💷
🖱️ Curzon - Curzon Sheffield Cinema Showtimes & Film Listings
---
☕ The Light Cinema ☕
📍 The Moor
One of The Moor's most popular destinations, The Light cinema opened in April 2017. It offers an exciting cinema experience featuring state of the art facilities, comfortable seating, showing the latest releases as well as live sporting events. And of course, they serve up an excellent range of drinks to go alongside the latest blockbuster!
💡 The Light Sheffield serve up Coffee Cabana which use 'only the finest 100% arabica beans in their coffees'.
🖱️ The Diner - Sheffield - The Light
---
☕ Marks & Spencer Cafe ☕
No feature on cafes and coffee shops would be complete without including the cafe at M&S on Fargate in Sheffield city centre. After all, this is not just any cafe, this is an M&S cafe ☕
🖱️ Marks & Spencer SHEFFIELD FARGATE (marksandspencer.com)
---
🎲 Secret Cake Cafe 🎲
📍 Inside Patriot Games, 97 Mary Street
Hidden away in the fantastic Patriot Games on Mary Street, the Secret Cake Cafe serves up a wonderful range of cakes and sweet treats alongisde a fantastic brew...or two ☕ ☕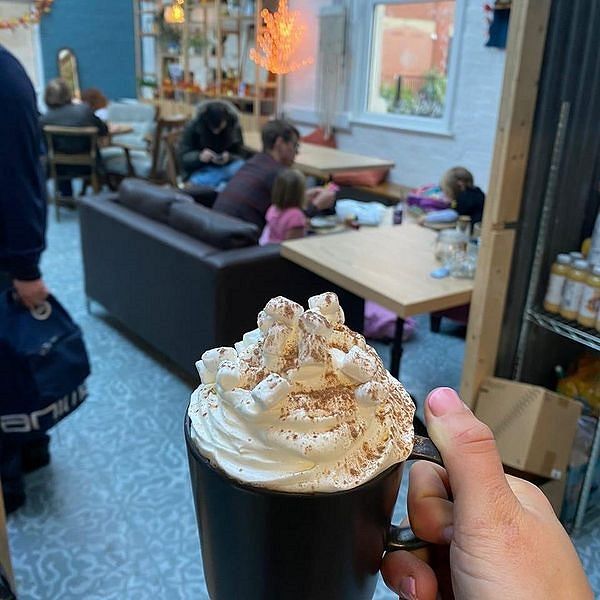 💡 Patriot Games celebrated their 29th Birthday in April 2023 🎈
🖱️ Secret Cake Cafe | Sheffield | Facebook
---
☕ Showroom Cafe Bar ☕
Located off Sheaf Street in a historic 1930s Art Deco building, Showroom Cinema is Sheffield's leading independent cinema showing handpicked films and events in the heart of the city. It also features its own dedicated cafe bar, serving up a whole host of delicious food...and coffee of course!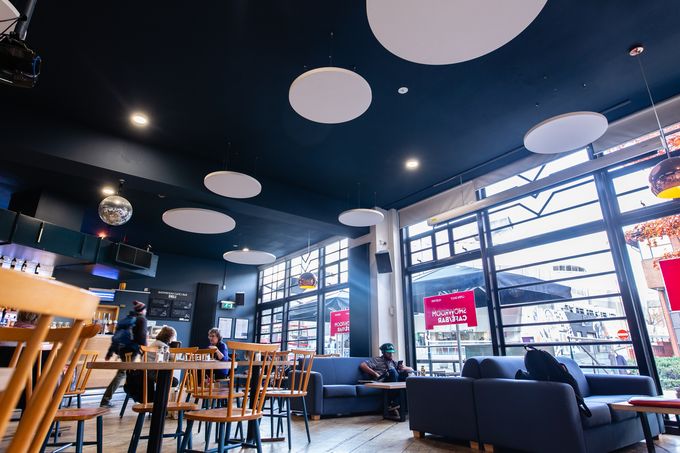 💡 The Showroom have a range of special film deals, including under 26 ticket deals, over 55's cinema clubs, parent and baby screenings to name but a few.
🖱️ Showroom Workstation - Sheffield
---
☕ Waterstones ☕
The Waterstones cafe, on the top floor of their Orchard Square store, is well worth checking out.
It's a lovely little cafe which can get very busy at times, but the team are always on hand to great you with a warm welcome and possibly one or two tips on the latest 'must buy' book 🤓
🖱️ Bookshop in Sheffield - Orchard Square | Waterstones
---