Spend a rainy day in Sheffield city centre ☂️
No sunshine, no problem!
It's the familiar cry from families everywhere: just where do you go to spend a rainy day?
Luckily Sheffield city centre is packed with exciting, unique and many free places to visit when the weather turns sour.
Let's take a tour of some of the best places to entertain the clan while staying (mostly) dry.
Please note: all information correct at time of posting. Visit individual venue and attractions websites for latest information.  
---
🎮 National Videogame Museum 🎮
📍 Castle House, Angel Street | S3 8LN
There aren't many family days out which can promise parents will have just as much fun as the kids. That's why the National Videogame Museum, which opened almost five years ago, is a must-visit.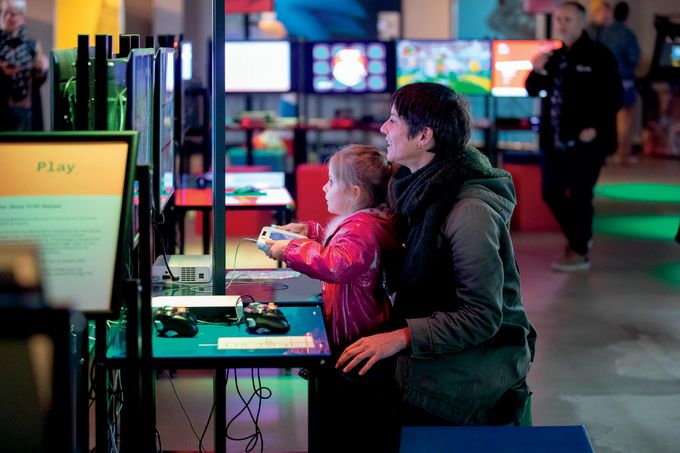 There are more than 100 games to play, which have been carefully curated by the team into sections focusing on themes such as Sonic the Hedgehog or Super Mario.
Classic video arcade games such as Time Crisis, and no less than 14 different versions of Space Invaders, are on display and understandably popular with the older guests.
"We do get a lot of people from Sheffield visiting but also people from all over the country", said Christian Beckett, communications officer at NVM. 
"One family even visited all the way from Essex after hearing about us on BBC Radio Six!"
The museum - which had 50,000 visitors last year - even allows people to go behind the scenes of UK video game development in The Art of Play exhibition.
Plans for themed May 2023 half term activities are in the pipeline at the time of writing, and displays continually evolve.
🖱️ National Videogame Museum, Sheffield. The UK's centre for videogames.National Videogame Museum - (thenvm.org)
---
🎳 Lane 7 🎳
For families into their sports, this destination is up the right alley.
Lane 7 combines ten-pin bowling with ping pong, shuffleboard and more for a one-stop games destination.
The handy location just off The Moor makes it easy to access using public transport and if a bite to eat is required, burger trader Fat Hippo also has a concession inside. Please note under 18s are not permitted inside after 7pm.
---
🏞️ Pound's Park 🏞️
📍 Wellington Street | S1 4GE 🆓
When the showers stop for a while, head to Sheffield's newest park for some free outdoors fun.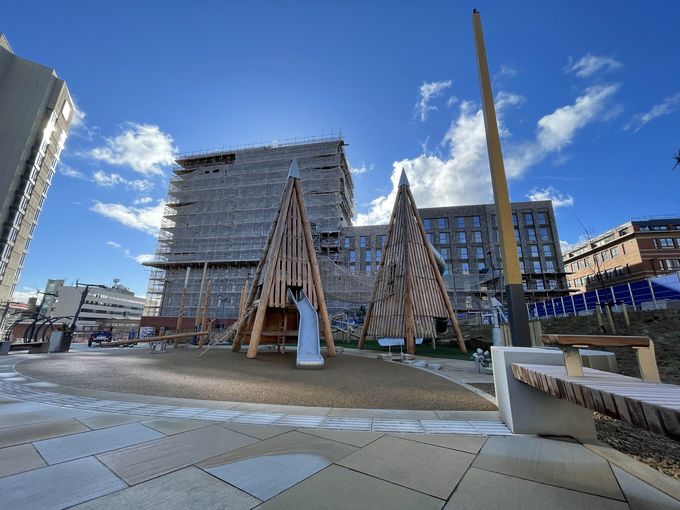 The public space is just a hop, skip and a jump away from The Moor, a homage to outdoor play in the heart of the city centre.
Named after Sheffield's first Chief Fire Officer, John Charles Pound, the park features a climbing boulder reminiscent of a Peak District rockface, and two pyramid towers housing exciting play equipment.
Little ones are guaranteed to love the musical paving and multi-featured sandpit sections, while there is also wheelchair-accessible play equipment.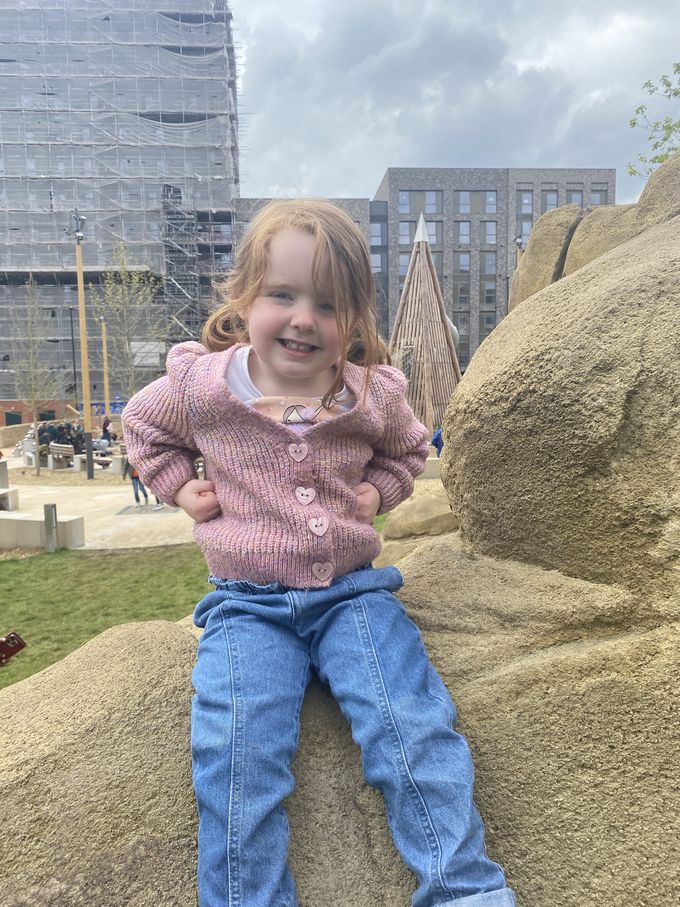 ---
🎞️ Take in a film 🎞️ 
📍 Curzon Sheffield | 16 George Street | S1 2PF
📍 Light Cinema | The Moor | S1 4PF
📍 ODEON Luxe | Arundel Gate | S1 1DL
📍 Showroom Cinema | 15 Paternoster Row | S1 2BX
Crack open the popcorn because no matter what you desire from a cinema trip, Sheffield can deliver the goods.
Each of our four - yes four! - city centre cinemas offers something distinctive.
For those with younger children to entertain, The Light offers 'family specials' costing from just £3.75 a ticket at weekends and during school holidays. There's also a play area at the bar and restaurant, which makes drinking a coffee while it's still hot more achievable.
Proudly independent, The Showroom shows an eclectic range of films, with parent and baby screenings among the attractions for families.
Curzon is contemporary, cosy and cool with a hidden rooftop terrace that will appeal to older viewers. It screens a mixture of award-winning, independent and contemporary films.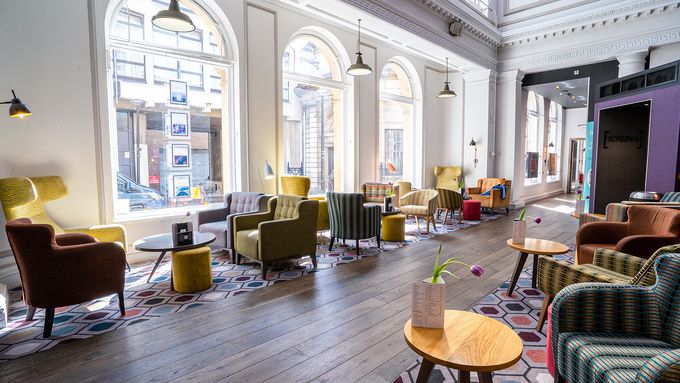 The blockbuster of the herd is the immersive ODEON Luxe, with ten screens, reclining seats and kids' film screenings taking place at weekends or school holidays.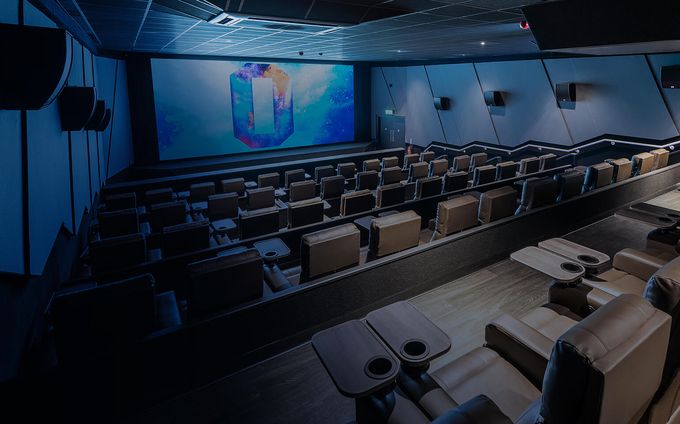 💡 See our full city centre cinema guide to read all about our four fabulous city centre cinemas. 
---
🚨 National Emergency Services Museum 🚨
The fascinating history of our nation's emergency services is brought to life vividly at this award-winning family museum.
Kids - and big kids - can climb aboard a fire engine, use their imaginations to help solve a detective's case and dress up to their hearts' content.
Don't forget to tour the Mega Machines, including a 47-foot long RNLI Tyne Class Lifeboat, in the outdoors area, and to ring the (very loud) bell.
🖱️ Things To Do | National Emergency Services Museum | England (visitnesm.org.uk)
---
📚 Sheffield Central Library 📚
Rainy days are made for cuddling up with a good book.
And Sheffield Central Library has thousands of stories to choose from.
Visitors can read inside the library or take books out - we recommend the warmth of the beautiful Winter Garden opposite as an al fresco spot for a new literary adventure.
The central library also hosts many events, including a storytime session for parents with preschoolers on Mondays, a young people's writing group and Autism Friendly hours.
🖱️ Our libraries | Sheffield City Council
---
🍟 Family dining at food halls 🍟
📍 Kommune | Castle House 📍 Sheffield Plate | Orchard Square
Sheffield has a vibrant and acclaimed street food scene. In the city centre there are two food halls, Kommune and Sheffield Plate.
Kommune is handily located next door to the National Videogame Museum and Sheffield Plate just inside Orchard Square shopping centre. Both pride themselves on celebrating authentic street food from diverse cuisine such as Sri Lankan kothtu roti or Korean fried chicken.
And the benefit of dining in a food hall is that everyone can eat a different dish at the same table, so fussy eaters and all dietary requirements can be accommodated.
Kommune's operations manager Denisa Veghova said the hall's midweek £5 lunch deal was proving a big hit: "The most popular traders with families tend to be the pizza from Urban and the burgers from Fat Hippo. The doughnuts from Project D are also very eye-catching and we have a new trader, TK Ramen, where the team makes bubble teas and those are selling really well."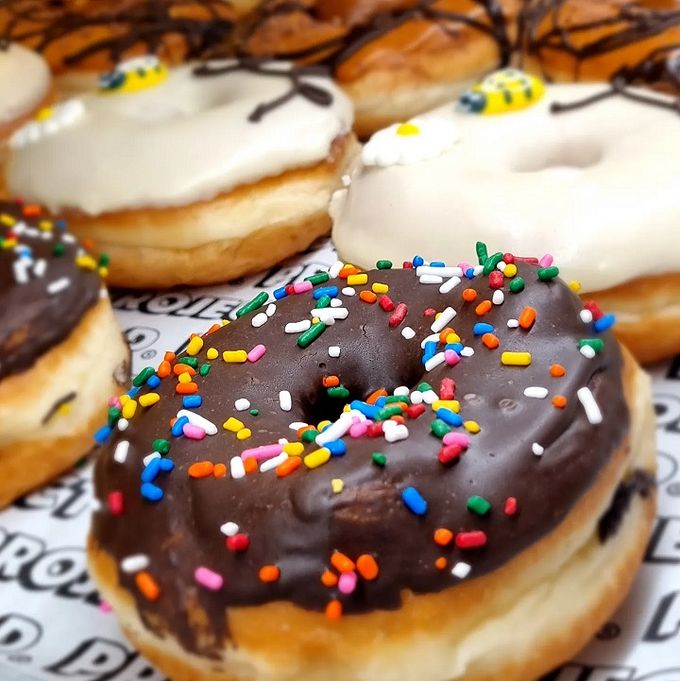 Both food halls have branched out into hosting events, making them more of a day out option rather than just a dining destination.
Kommune hosts a Kids' Cinema every Sunday at 1pm, where for £3 they can enjoy a movie and a doughnut, while Sheffield Plate is expanding its in-house live music shows.
🖱️ Home - Kommune 🖱️ Sheffield Plate
---
🏊 Ponds Forge International Sports Centre 🏊
Ride some waves or float around a lazy river at the flagship Ponds Forge leisure swimming facilities, which also include a toddler and baby pool.
For serious swimmers, the diving pool is Europe's deepest, and the centre also offers coach-led lessons in everything from trampolining to martial arts.
🖱️ Ponds Forge | Gym, Swimming Pool, Sports Hall & Lessons (sheffieldcitytrust.org)
---
🏺 The Millennium Gallery and Winter Garden 🏺
📍 Millennium Gallery | Arundel Gate | S1 2PP 
📍 Winter Garden | Surrey Street | S1 2LH
Art-loving kids will be in their element at The Millennium Gallery, which is devoted to the best in art and design.
Spend some time discovering fascinating artefacts brought to the city by writer John Ruskin and tour one of the finest metalwork collections in the world.
Shoppers can also indulge in some retail therapy at the gallery's store - which stocks locally produced gems and gifts including iconic Henderson's Relish products.
And the gallery leads straight into the Winter Garden, one of the largest temperate glasshouses in the UK and a picture-perfect place for a lunch break.
Even when it is bucketing it down outside, the botanical setting is warm, welcoming and has plenty for little ones to explore.
🖱️ Millennium Gallery - Sheffield Museums Trust
🖱️ Sheffield Winter Garden - Attractions - Visit Sheffield (welcometosheffield.co.uk)
---
🖼️ Graves Art Gallery 🖼️
Soak up some culture on a rainy day at Graves Art Gallery, which is home to a dazzling collection of work.
Featured artists include Grayson Perry, Bridget Riley and Avinash Chandram and there is a vibrant programme of regularly changing exhibitions.
There's something for everyone, with sculpture, abstract works and more traditional paintings among the collections.
And the location? Just above Sheffield Central Library.
So while in Singapore they say you can spend a day without leaving a shopping mall, in Sheffield the same really is true of cultural destinations.
🖱️ Graves Gallery - Sheffield Museums Trust
---
🎭 A Trip to the Theatre 🎭
📍 Sheffield Theatres | The Crucible, Lyceum and Tanya Moiseiwitsch Playhouse | S1 1DA
📍 Sheffield Library Theatre | Surrey Street | S1 1XZ
📍 The Montgomery | Surrey Street | S1 2LG
Sheffield's theatrical connections are well celebrated - with every fresh season at The Crucible, The Lyceum and The Playhouse bringing brilliant new productions to the city's doorstep.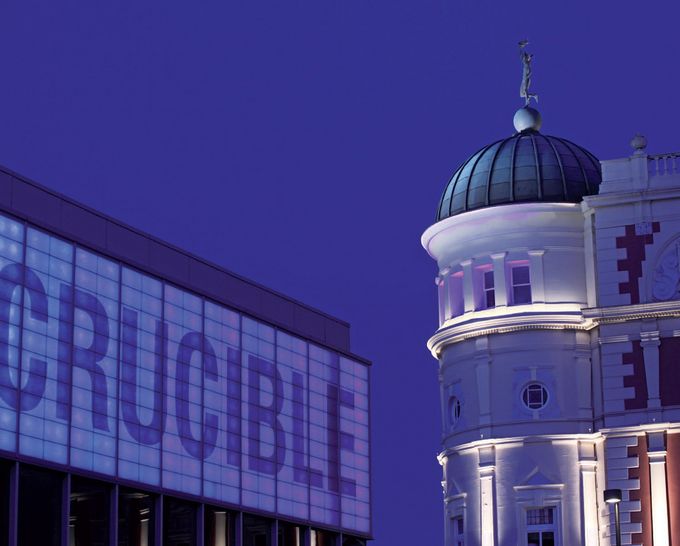 There's also the Sheffield Library Theatre. Their art deco 260 seat venue sits just behind Sheffield Central Library, in the heart of Tudor Square and complements their larger neighbours with an eclectic mix of traditional and 'leftfield' events.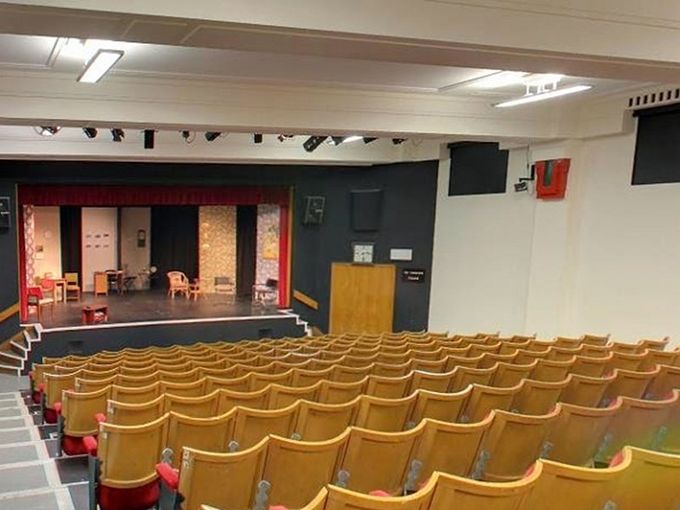 Just around the corner you will also find The Montgomery. 
The Montgomery Theatre and Arts Centre, to give its full name, specialises in children's theatre and community productions as a leading arts centre based in a beautiful, historic building. It's well worth checking out what's on at 'The Monty', as it is known locally, as well as at Sheffield Theatres to see what events are taking place.
🖱️ Crucible | Sheffield Theatres
🖱️ Lyceum | Sheffield Theatres
🖱️ Playhouse | Sheffield Theatres
🖱️ Libraries Sheffield: Theatre (shefflibraries.blogspot.com)
🖱️ What's On - The Montgomery Theatre & Arts Centre
---
📱 #LookUpSheff 📱
📍 Owen Building 📍 Sheffield Central Library 📍 Barker's Pool 📍 The Diamond
Another attraction to check out when the showers ease off is the augmented reality art trail #LookUpSheff.
A celebration of the changing city centre, and Sheffield's creative scene, it brings together talented makers to encourage people to see buildings in a different way.
All you need is a smart phone - and potentially a raincoat.
🖱️ Look Up (welcometosheffield.co.uk)
The project has been led by Marketing Sheffield, part of Sheffield City Council, and paid for via a grant from the Getting Building Fund.
---
⛪ Sheffield Cathedral ⛪
Head back inside to the majestic Sheffield Cathedral, which is right next to the Cathedral Supertram stop and in the very heart of the city centre.
The Cathedral has guided tours and a packed schedule of events, from music classes to markets, concerts and even live screenings of major events
🖱️ Events — Sheffield Cathedral
---
💡 For more Sheffield city centre inspiration, visit our featured content section or our social media feeds covering entertainment and food and drink.  
---
A print version of this article was also featured in The Sheffield Star 16.05.23 - read it here.